With the new Imperial Guard codex and rework, it's time to look back at this massive remote-controlled (RC) Baneblade that weighed 500 pounds!
Who would have believed that the biggest Games Workshop model was not only a tank but remote-controlled to boot?
This was actually commissioned by Forge World back in 2003 (premiered in 2004), but even though it has some age, this is still one of the craziest models we've seen. 
If you love giant and crazy Warhammer creations, this will be right up your alley! This comes from Mark 1, and while the site looks a little older, it still says you can contact him for any questions on the build!
Massive Motorized RC Baneblade Flashback!
Back in the day, when Forge World was starting to ramp up its brand, they commissioned a HUGE Remote Controlled replica of the Baneblade that actually worked.
It was paraded around Games Day 2004 in the UK in front of 8,000 cheering fans even!
Checkout the whole build project and more shots from Games Day 2004: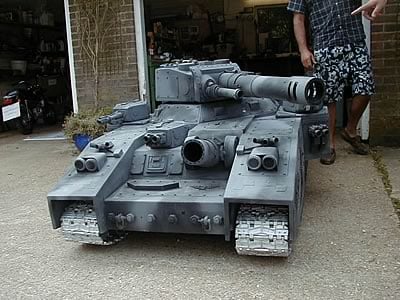 Here are some more specs on the build itself:
The only way I could move it from its box was to drive it, so I connected up the RC, Battery, and ESC and literally drove it off of its crate, and into my workshop! As it is so big, being 4'10" wide, 6′ long, and almost 3′ tall, it weighed in at 230kgs!! It would not go on my bench, so I had to work on it on the floor, luckily, it was summer! 
I had to stiffen the suspension slightly, adjust the gearing by lowering the chain drive to the rear sprockets, connect all the electronics up, fit 2 x 60w 8″ speaker with a 400 amp amplifier, use 2 x RC systems, one to control the drive, front turret, and sounds, and another to operate the main turret and side sponson turrets with main gun elevation. I then made up all the switches, and charging leads so as not to remove any turrets, set it all up, and tested it up and down the road to our premises. The Baneblade is over half the width of the road, so it looked unreal driving up it, as a certain tractor driver can confirm, he was gobsmacked to see this thing driving up the road towards him!
Sadly we don't know what happened to this work of art, which would be almost 20 years old.  However, you can get the scoop on how it was fabricated on Mark 1's site here!
What do you think about this insane build? Would you ever undertake a project like this?
Let us know in the comments of our Facebook Hobby Group, and make sure you enter the latest monthly giveaway for FREE today!  
Get ad-free access to our videos, a monthly drop of miniatures, and support some of the best creators out there for as little as $6 a month on Patreon!