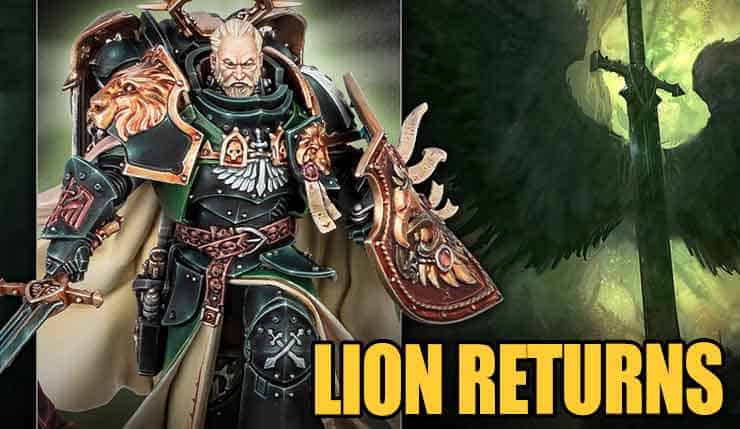 After years of rumors and clamoring, a new Lion El'Jonson primarch miniature is coming to Warhammer 40k after being revealed at the AdeptiCon 2023!
This is what Warhammer TV  and Warhammer Community had to say about them, along with our commentary on it as well!
AdeptiCon 2023 Reveals!
Fear not though, because the Warhammer Studio will also host the Warhammer Preview Online at 3:00 am GMT. Trust us you will absolutely not want to miss this one – it's going to be a real showstopper. 
The reveal stream will be hosted live on Twitch and Warhammer Community, and you'll be able to watch it later if you're still sensibly tucked up in bed or busy working when the show goes live.
A 10 pm preview on a Wednesday night here in the states, what a time to be alive!
Lion El'Jonson New Primarch Miniature Revealed for Warhammer 40k!
Well, GW wasn't very subtle with its hints, but hey, seeing the new model is just awesome! After thousands of years of sleeping in The Rock, he finally comes out to help the beleaguered Dark Angels.
He's also coming with a new Arks of Omen book that will also have rules for Dante as well. Let's take a closer look at the mini.
Lion El'Jonson, Primarch of the Dark Angels, has returned from the annals of history in humanity's time of greatest need. Wielding the radiant sword Fealty and the Emperor's Shield, he is a martial paragon – a hunter of beasts and slayer of traitors, stalking from the mist-wreathed passageways between the stars like a questing knight of Old Terra.
Obviously, he looks a lot older than his Horus Heresy model, but that makes sense as he's been resting for 10,000 years!
They didn't say much about rules, but his sword is still carried around the universe by Cypher, maybe he'll have to go retrieve it soon.
However, he carries the Shield of the Emperor, so that should mean he has some crazy defensive capabilities.
Like many of the Dark Angels, he comes with a few attendants, just as it should be.
Then, he comes with four different head options, so if you're not a huge fan of the old man look, you can throw a helmet on there.
Size-wise, he's about the same size as Guilliman, which makes sense, complete with tactical rock (get it).
New Arks of Omen Book For Lion El'Jonson in Warhammer 40k
He will be coming with a new Arks of Omens book, in which he'll battle his brother Angron at some point.  The book will also contain his and Dante's 40k rules and is slated to release later this spring.
We hope they also release the rules for free like they did for Vashtorr and Azrael when they hit store shelves as well.
Check out the latest Warhammer 40k rumors for the rest of the 9th and even 10th Edition, new releases, and more!
Click Gallery below for full-size images.
View Gallery: 33 Images
Here's the most up-to-date list of new Games Workshop bits from preview models that we should watch out for. Click on the gallery above to see dozens of Rumor Engines with new models still to be revealed!
What do you think about Lion El'Jonson coming to 40k? 
Let us know in the comments of our Facebook Hobby Group, and make sure you enter the latest monthly giveaway for FREE today!
Get ad-free access to our hobby videos, a monthly crate of miniatures, and support some of the best creators out there for as little as $6 a month on Patreon!