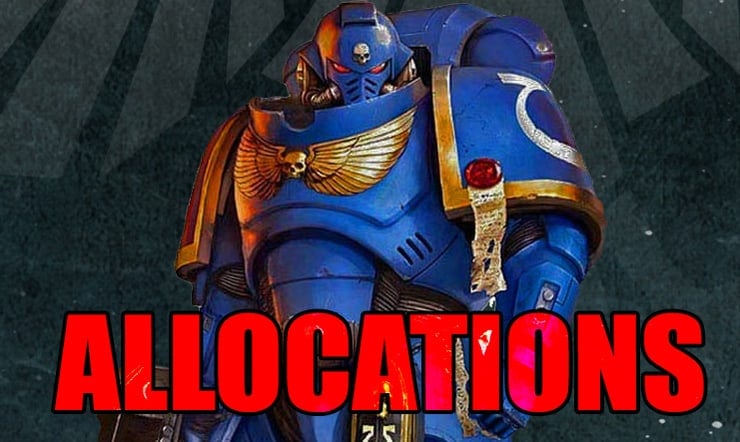 New allocations are here this week for Kill Team Ashes of Faith as stores debate even stocking 10th Edition Warhammer 40k.
Just a few weeks ago, the Lion was allocated into the dirt, and it immediately went for insane prices on the secondary market. While this week's releases aren't nearly as anticipated, two weeks ago, Kill Team Gallowfall was allocated to four per store and is still seeing high prices (1.5-2x retail) on the secondary market!
Will this week's allocated Kill Team releases see a similar trend in pricing? We hope not…
Good Luck Getting Ashes of Faith: Latest GW Allocations
Kill Team Ashes of Faith:

 

2 per store

(ouch)
Horus Heresy Vindicator:

 

No Allocations
We mentioned already that two weeks ago, Kill Team Gallowfall was allocated to four and is still seeing harsh markups online. However, this week, the allocations for Ashes of Faith are half that at two per store. That being said, it might be a less hyped release than the return of Chaos Beastmen and Votann upgrades in 40k.
Still, this might be a serious problem for bigger stores depending on their community. Let's hope this means the GW online store has a decent amount, or we'll see another release hitting the secondary market at insane prices…
At least the Horus Heresy Vindicator was not allocated, so fans of new HH kits can get them, however, the new campaign book is web only.
Again, Kill Team is getting rough allocations, but we're still hoping Games Workshop gets things together before the 10th Edition release because stores are getting tired of being hamstrung on products.
If these new releases don't appeal to you, check out all these Warhammer 40k and AoS box sets and bundle deals that are going for close to 40% off on eBay right now!
What do you think about the latest allocations and caps from Games Workshop for Ashes of Faith?
Let us know in the comments of our Facebook Hobby Group, or our new Discord server, and make sure you enter the latest monthly giveaway for FREE today! 
Get ad-free access to our hobby videos, a monthly drop of miniatures, and support some of the best creators out there for as little as $6 a month on Patreon!