Checkout the fat new issue of White Dwarf complete with TWO posters & chock full of retro & hobby goodness!

The September issue of the White celebrates the 30th anniversary of Warhammer 40k and showcases the wave one release of Chaos Death Guard. The cover art for this issue is an updated version of the Crimson Fists' "Last Stand on Rynn's World" that was the cover of the original Rogue Trader rule book. This month's issue also is full of hobby content, features, and extras. Now, we have already covered the Death Guard content from this issue in a previous article, so be sure to check that out.
Here is a sample of our quick and dirty review to give you the lowdown on what you can expect to see in the September issue.
For our complete review, be sure to scroll down and press play on the full video below.
The Septemeber issue comes in a card-stock slip cover to protect the new issue and two posters that come inside. The first is a larger version of the cover art with Ork Stompas in the background. The second poster is for Total War: Warhammer 2. Now, this issue is full of hobby features and makes up for the poor showing that was last month's White Dwarf. There is the final installment of the 'Tale of Four Warlords'; new Hobbit rules in preparation for the upcoming Lake Town releases from Forge World; a feature that goes in-depth on Allies from the new General's Handbook 2017; and much more.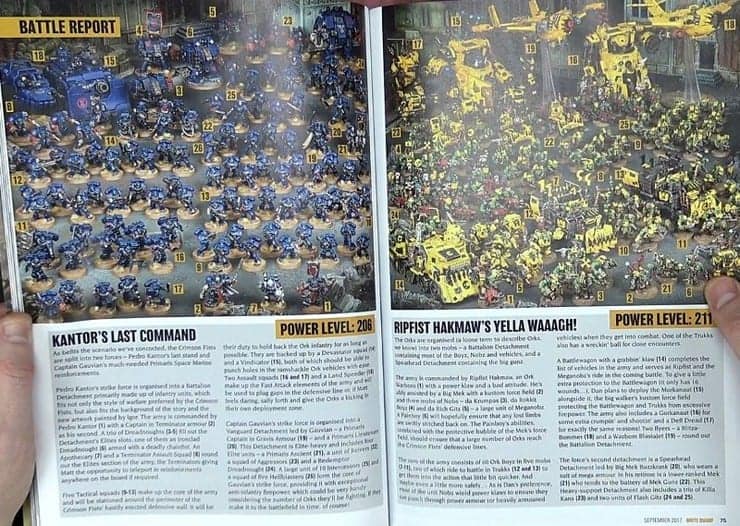 This month's battle report is Crimson Fist themed, featuring Kantor's Last Command with a 206 power level facing Ripfist Hakmaw's Yella Waaagh! with a 211 power level. There is also another battle report included which pits Ultramarines and Imperial Fists with a power level of 199 vs. the Chaos Revenants of Umidia with a power level of 214.
Aside from a great Splatter Report on ways to paint up the limited edition Intercessor Sergeant, there are also several pages worth of hobby tips in the Realms of Battle section on how to utilize the new Citadel Basing Terrain Kits that were just released.
For 30 years, the grim darkness of the far future has captivated gamers, painters, modellers and others around the world – and so this issue we celebrate 30 Years of Warhammer 40,000! We mark the occasion with a very special issue, presented in a deluxe cardboard sleeve and including a very special, exclusive free gift – a poster, marking Warhammer 40,000's 30th annviersary, with a special nod to its illustrious beginnings. Inside the magazine, we look back over the past 30 years, and just what a triumph Warhammer 40,000 has become in the meantime. The team pick out some of their favourite aspects of the behemoth that is Warhammer 40,000, we bring you a special anniversary battle report, we've got a Paint Splatter for the anniversary miniature also released this month and much, much more.
These Age of Sigmar bundles are available now online and in local Games Workshop stores. Be sure to press play on our quick and dirty review video below for the full product breakdown.
For more on the Starter Box bundles and all things Age of Sigmar, visit Games Workshop!
Spikey Bits Latest
Latest Long War Podcast - Listen NOW!