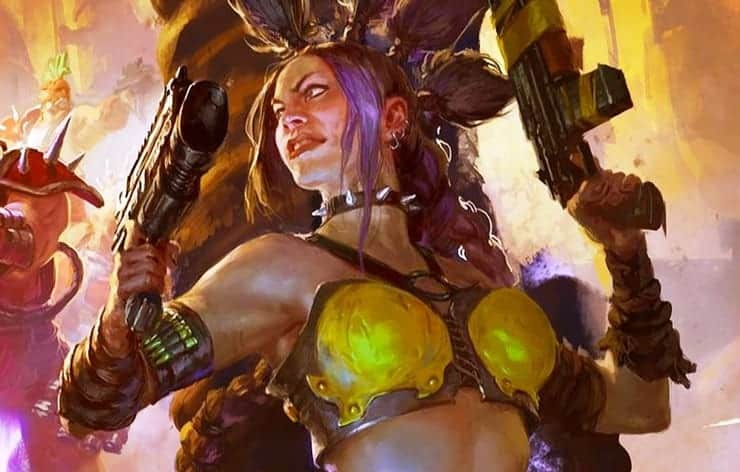 Exciting times are ahead for Necromunda fans! It looks like the Eschers gang is getting another box and it might be here sooner than we think.
Warhammer Community dropped a wave of previews of what's on the way to some of GW's biggest titles at GAMA 2020. Keep in mind that there's no official date on all this stuff just yet, but now we know it's coming.
Necromunda's House of Blades Expansion
House of Blades is a new gang book for Necromunda that offers unparalleled resources for Escher gamers and lore-lovers alike. As well as detailing the history of this gang in a level never seen before, it looks to the future with new rules, house allegiances, gangers and even their pets! 
We first saw GW expand into the Goliath gang with the House of Chains book. But now it looks like Eschers are next in line for their second pass of rules and models.
Staying right on track for GW's expansion roadmap, the House of Blades is coming for Q2 of 2020. If you're trying to figure out where your gang sits, we know that the Orlocks and Van Saar will also be getting covered before the year ends so sit tight!
Eschers are Getting More Units Added to Their Faction
These girls were all originally previewed as part of GAMA 2020's expo. Along with a new book, Escher gangs are also getting some dope new minis. These are Death Maidens- dead Eschers that have literally been resurrected through different drug concoctions to fight for the gang once again. Just taking a shot in the dark at their rules, they'll probably be very elite and might even put off negative leadership auras around them.
Shoot, similar to the Corpse Grinders, they might also require a cool check to even shoot at. They're definitely spooky.
Taking on another look for the Eschers, these are Wyld Runners. Explorers for the gang that uses quieter, more conventional weapons like bows and whips. They'll probably even faster than normal Eshcers and may be able to infiltrate up the board.
Finally, Eschers are also getting a wave of pets called the Phelynx. These are like a weird cross between a cat and a dinosaur.
Stepping back and looking at the recent Necromunda support overall, GW has definitely been pumping the game full of content, bringing it up to being one of the most intricate, colorful games to play out there. At this point, there's probably a gang for everyone. Plus, there are so many different ways to kit your dudes for your missions, it's never dull.
New Escher Kit Spotted on Display
We have exclusive pictures from GAMA for the new Eschers box:
The kit looks to have everything previewed from above all rolled into one box, just like the Goliath's did recently.
As for a potential price point on the new Eschers, we've seen the new House of Chains' Goliath Stimmers run for $42.
But even after all these new minis, there are a couple new Escher models that were also previewed and are missing…
These Characters Might be Forge World Resin
We even got a pict-capture of one of the Escher Chem-matrons – her name is Prianaa, but she's better known as Pick-me-up. 
During the second wave of Necromunda previews, some artwork for a chem dealer called Prianna was also teased. It looks like Eschers might be coming in heavy with a load of new drugs at their disposal in this next release, and maybe even a model we haven't seen yet, Prianaa.
On top of that, this Escher looks like some kind of Wyld Runner. Although she looks to be kitted out slightly better than the other girls. We're not entirely sure if this is some kind of Champion or maybe a named character waiting to drop from Forge World.
It's safe to say that GW has been really turning up the heat in Necromunda. All of the older factions are getting a second pass with rules and even new models. We will just have to keep our eyes peeled for more details on the Eschers in the coming days.
Will you be grabbing a box or two of the new Eschers when they drop? What's your favorite gang to run in Necromunda? 
Let us know in the comments of our Facebook Hobby Group, and make sure you enter the latest monthly giveaway for FREE today!