Forge World is rolling out some serious Horus Heresy releases, check out these Legion-themed dice, Primarch Lion El'Jonson, and Crusade!
Forge World updated their webstore once again with pre-orders focused on the Horus Heresy. It doesn't matter what Legion you play, you can reserve some faction-themed dice for yourself as well as the new Crusade book or even a Forge World quality Primarch!
Starting off strong we've got the Dark Angels Primarch, Lion El'Jonson. If you haven't been following along with his previews, you can actually swap the head and wargear on this guy for a helmet and chainsword-type weapon too.
Lion El'Jonson is sculpted in the midst of battle, swinging his sword down to slay the enemies of the Emperor. He can be assembled wielding either the Lion Sword or the Wolf Blade and even comes with a different scabbard for each. You can also decide whether the Primarch of the I Legion wears the legendary Lion Helm to complete his armour, known as the Leonine Panoply, or he goes bare headed. His gaming base features Lion El'Jonson standing atop a flight of rocky steps. This slots into a larger display base which creates a diorama where he is surrounded by defeated (or soon to be defeated) Night Lords.
The Primarch of the Dark Angels is supplied in 44 resin components, including a choice of two heads and a choice of sword and accompanying scabbard. He is supplied with a 40mm gaming base, which slots into an 80mm display base.
Rules for using Lion El'Jonson in games of The Horus Heresy can be found in The Horus Heresy Book Nine – Crusade.
That face you make when an expansion book costs as much as a Primarch…
Inside you will find:
– A detailed background of the brutal Thramas campaign
– A history of the Dark Angels Legion
– A look at the Night Lords and their descent into heresy
– Legiones Astartes Appendix: Dark Angels – special rules, wargear, units, and Characters
– Legiones Astartes Appendix: Night Lords – special rules, wargear, units, and Characters
– Army list additions for Space Marines, Solar Auxilia, Imperialis Militia, and Cults
The Horus Heresy Book 9 – Crusade is a 208-page, full-colour, hardback expansion book for the Horus Heresy game and requires a copy of The Horus Heresy: Age of Darkness Rulebook to use.
Forge World is also rolling out dice for every single Legion in the Horus Heresy.
From Night Lords, to Imperial Fists, to World Eaters and even Sons of Horus! each faction has their own themed dice twith the Legion's symbol engraved on the "6".
Each dice pack will come with:
– 19 D6 with  logo on the '6'
– 1 scatter dice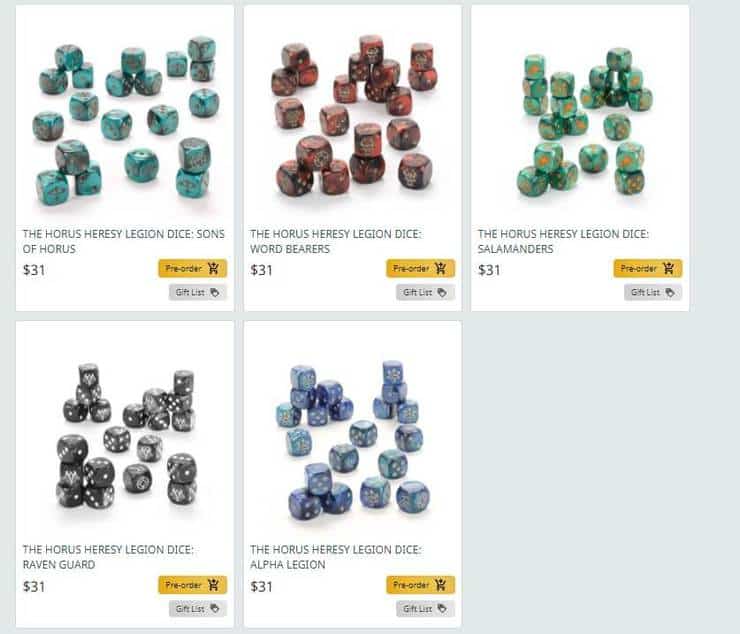 This isn't the first time that Forge World has ever released Legion-themed dice but it's been a long while since they have. Before this announcement, these dice were selling on eBay for as much as $90! 
There you have it! Be sure to look through all the dice to find your Legion. Especially while pre-orders are still early. They may be more popular than you think and you don't want to get stuck buying them for almost a hundo somewhere else.
What will you be pre-ordering this time? Is Crusade the most expensive 30k book you've seen?
Let us know in the comments of our Facebook Hobby Group, and make sure you enter the latest monthly giveaway for FREE today! You can also support us on Patreon and get ad-free access to the site, plus a ton of minis that helps support some of the best creators out there!