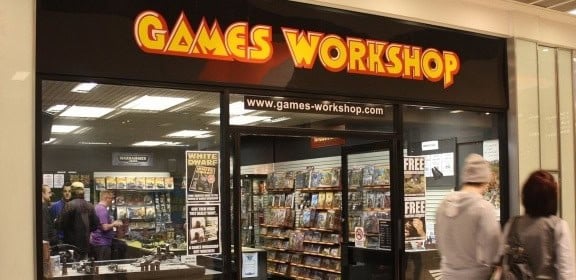 Games Workshop looks set to make a big announcement tomorrow on a new product that will be released. Here's our predictions on what it might be.
This is an excerpt of a larger brief Games Workshop sent to it's corporate stores this week:
We have been making several announcements about upcoming products recently, and we have another one this weekend.

Saturday at 2pm UK time (GMT+1)
But what could it be? Let's take a look at our Top 3 ideas on what this big announcement might be.
Adeptus Titanicus
Adeptus Titanicus will be getting a Black Book release in 2017! Checkout the artwork that was just spotted last month at the Open Day
According to J Martin who talked with Andy Hoare the game is done, and will be released this year:
The book is done, the minis are done. Titanicus is going to print next week and will be out this year
They are going to do a big release with boxed game plus extras. They pushed the schedule back a bit to flesh it out more
They have learned from BB that people are lapping Specialist Games up, so are going to get more budget for it
Generals Handbook 2
The General's Handbook 2 has been talked about for a little bit now. We know there's a lot of changes coming to Age of Sigmar, and a lot of new armies and models being released to include the brand new Kharadron Overlords. Is it time for the Generals Handbook 2 to be released with the new Duardin added into it?
Warhammer 40k 8th Edition 
That's right, 8th Edition is definitely a possibility! Games Workshop is known for taking us all by surprise so this isn't too far of a reach.
We've been hearing rumors of a release date in June, and something tells us they're just as excited to release it as we are to find out what it holds. So don't mark this one off the list just yet.
No matter what the announcement will be dropped, Saturday April 22nd, at 2pm UK time (GMT+1) and we will be posting it as soon as we get our hands on it. So make sure to check back with us throughout the day as we find out together what this big announcement is.
What do you think it will be? Let us know your thoughts in the comments below.

Are Daemon Prince's OP? Episode 154