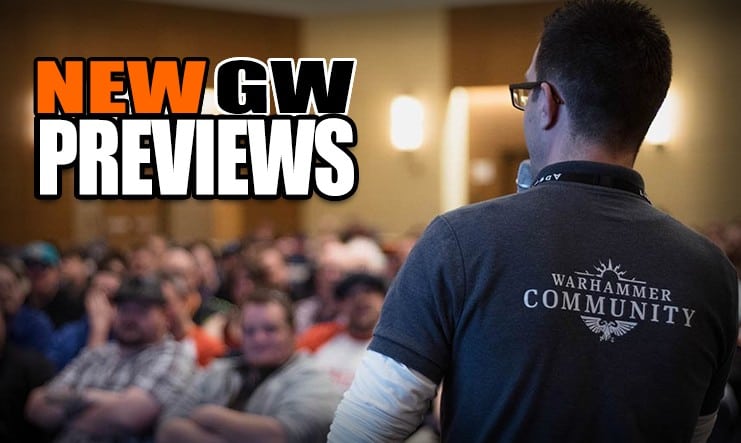 Don't miss all these incredible new models for Warhammer 40k and Age of Sigmar straight from Warhammer World Open Day 2023.
Another big online GW Preview from Warhammer TV  and Warhammer Community, revealed dope new models for AoS and 40k!
Be sure to take a look at all the latest new releases and reveals for Warhammer 40k:
New Reveals For Warhammer 40k & AoS at Warhammer World Open Day
An unannounced 5 am preview on a Saturday morning here in the states; crowds looked sparse in this header image from Warhammer Community. 
Regardless, here is our coverage from the Warhammer World Open Day Previews- all in one place!
It's official a new Commander Farsight model is here, along with a new Arks of Omen book and a Tau Boarding Patrol in the latest reveal from Warhammer World Open Day.  Read More
Two new battletomes are coming for AoS as well as Lord of Hubris and the Realmgore Ritualists for Hedonites of Slaanesh, and Blades of Khorne, respectively. Read More
Boss Snikrot creeps back into Warhammer 40k with a new model accompanying an Orks Boarding Patrol for Arks of Omen! Read More
Check out the latest Warhammer 40k rumors for the rest of the 9th and even 10th Edition, new releases, and more!
Click Gallery below for full-size images.
View Gallery: 15 Images
Here's the most up-to-date list of new Games Workshop bits from preview models that we should watch out for. Click on the gallery above to see dozens of Rumor Engines with new models still to be revealed!
What do you think of the new models, books, and everything else in the latest reveals?
Let us know in the comments of our Facebook Hobby Group, and make sure you enter the latest monthly giveaway for FREE today! 
Get ad-free hobby videos, a monthly crate of miniatures, and support some of the best creators out there for as little as $6 a month on Patreon!