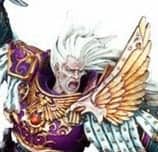 I found this little nugget languishing in the bottom of my videos folder earlier this month.

So to the light of day with it!
Please enjoy this recently resurfaced unboxing of Fulgrim the Illuminator, and be sure to check out the other videos I've done on all the new Primach models!
The Kit
---

Fulgrim is available for 55 pounds (~$90) from Forge World.
The mercurial and prideful Fulgrim, the Phoenician, strove to be a paragon of all things. He passed on his values to his Legion, where they became enshrined as a remorseless dedication to perfection in warfare. Such all-consuming ambition came at the price of vainglory and hubris for both the Emperor's Children Legion and their master, and they were swiftly ensnared in the Warmaster's conspiracy. 

Modelled in the thick of bloody combat, his arrogance and condescension given way to fratricidal anger and battle-born wrath, this dynamic miniature showcases the full opulence of Fulgrim's panoply. The miniature comes supplied in a handsome presentation box, and features a large 60mm scenic base, itself packed with detail, into which a 40mm base sits, allowing for both display and gaming use. You can find out about how Simon Egan approached such an iconic project here. There is a 360º view of the model at the end of the video.  –Courtesy FW's site

Unboxing
---
The plan is to assemble and paint them all!  For now though, enjoy the video!
Oh and don't forget to checkout my unboxings of all the primarch models HERE  -MBG