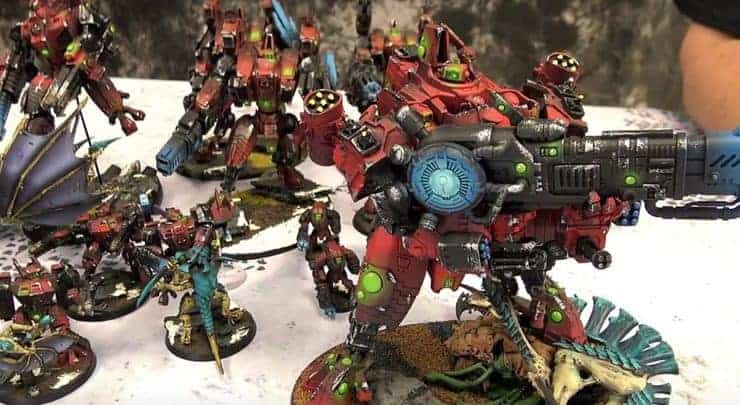 Deadpool has made it to the T'au homeworld and found a way to add his own flare to their army…for the greater good, of course. Take a look at this fun converted T'au army showcase!
The Wobbly Modelers have converted an awesome and fun T'au army featuring the Merc with a Mouth himself. Take a look at this quick overview of the amazing T'au army and be sure to press play on the video below to see the entire army!
The army features Deadpool as an Ethereal, with all battlesuits having the Deadpool symbol on their arms or shields. The army includes Tetras with mesh patterns, Ghostkeels, Stealth Suits, Broadsides, a Stormsurge, Y'vahra, Ethereals, Coldstar Suit, Crisis Suits, and Riptides. There are many options for marker lights, mortal wounds, double shooting, and a lot of other awesome stratagems.
The Stormsurge is also amazing during overwatch.
Some other awesome conversion features models dragging, stepping on, and battling Tyranid forces. The Stormsurge has ripped the tail off one Carnifex, for instance, and the Y'vahra is drop kicking a flying Hive Tyrant as well. Some of the arms were used from Puppets of Wars, plus a lot of green stuff, to create the conversions.
Overall, the T'au army is very customized and playable at 2000 points. It fits the T'au mechanics of being a very shooty army and makes things a lot of fun.
For information regarding how to get an awesome commission army like this, and to see other amazing armies, check out the Wobbly Modelers on Facebook. Be sure to check out the entire showcase by pressing play on the video below!
Spikey Bits Latest
Latest Long War Podcast - Listen NOW!