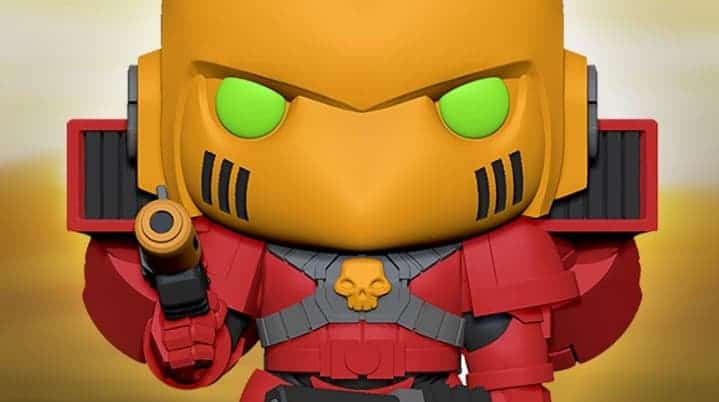 Don't miss the latest on the new Space Marine Funko POP! figures that were just spotted in packaging at the New York Toy Fair.
Who knew Space Marines could be "cute-ified" with Funko POP's! touch? With the four most iconic Space Marine Chapters being sold as their first line of models, we've finally seen them in their own packaging.
But before we go into that, let's bring you up to speed for everything on the set of Four Pop! Space Marines.
Funko Pop! 40k First Previews
The first wave of Warhammer 40,000 Funko Pop! figures consist of four Space Marines, one for each of the four most famous Chapters.
With the first line of Funko Pop! figures underway, they'll be debuting the four most iconic Space Marine Chapters from 40k.
From the feral savagery of the Space Wolf to the hooded intrigue of the Dark Angel, these four figures capture the essence of each Chapter – just in a cuter way than we've seen before.
These figures draw the perfect line between a Space Marine killing machine and a cute collectible. A lot of hard work and design was put into these guys to give you the Space Marine and Funko Pop! feel all rolled into one.
40k Funko Pop! Figure Prices Spotted
Disclaimer: These prices may or may not be the base price. there are a few different prices that have been spotted out on the web. However, we're using Entertainment Earth, as they are a trusted company that's been around for years.
This first wave of Funko Pop! 40k figures are coming in a set release of four Space Marines. They all look to be the same price as well.
An interesting thing to note is that these figures are up for pre-order on their website already. They are expecting them to hit the shelves sometime in May 2019 but that can always change. -Just keep your eyes peeled!
Depending on what website you go to, all the figures seem to be hanging around the $10-$15 price range. There's really only a couple bucks difference between some of their products, so we are willing to trust the true price (if this isn't it already) will reflect something very close. 
Vinyl Funko POP 40k Models Spotted
From Warhammer Community:
Funko POP! 40k Space Marines have been spotted in their cardboard drop pods at the Toy Fair event happening in New York. Whether they'll be on sale right after or if we will indeed wait a couple more months are still up in the air.
Nonetheless, any hardcore fan of these Chapters may need to snag one for their shelves as a "Relic of the Chapter".
Will you be picking one of these models up? Which faction should Funko POP! make next? Let us know in the comments of our Facebook Hobby group.