Lots more new Eldar are on the way as GW revealed the new Avatar model along with Maugan Ra, plastic Shining Spears, and more!
Another big online GW Preview for all things Warhammer is here! Catch all the latest reveals from  Warhammer TV  and Warhammer Community along with our commentary!
Las Vegas Open Preview
LVO is one of the biggest independent Warhammer events in the world, and one of our favourite places to unveil new stuff. If you can't make it to Vegas, don't worry – the Warhammer Preview Online will be here to introduce the latest and greatest from Warhammer 40,000, Warhammer Age of Sigmar, Necromunda, and more.
New Eldar Avatar
Well, a lot of this model has already been revealed, and you can click here to see all that. Although we got some new close-ups of the detail in their sizzle video.
Revealed a few days ago, the Avatar of Khaine makes his official appearance in all of his multipart-glory. Not only does the new kit come with three head options, it also has three weapons; in addition, the new Avatar is adorned with the runes from a number of different Craftworld Aspects, creating a truly customizable monster to add to your Craftworlds army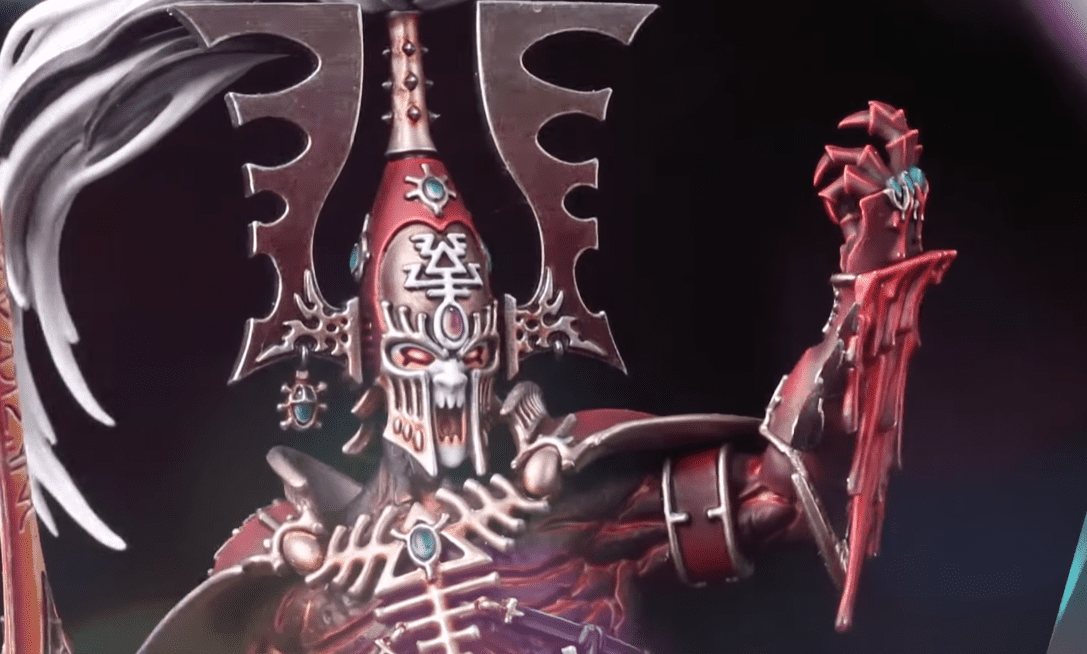 It still looks like we have seen all the options for the new Eldar Avatar though, however, his base is for sure the biggest yet, perhaps 110mm round.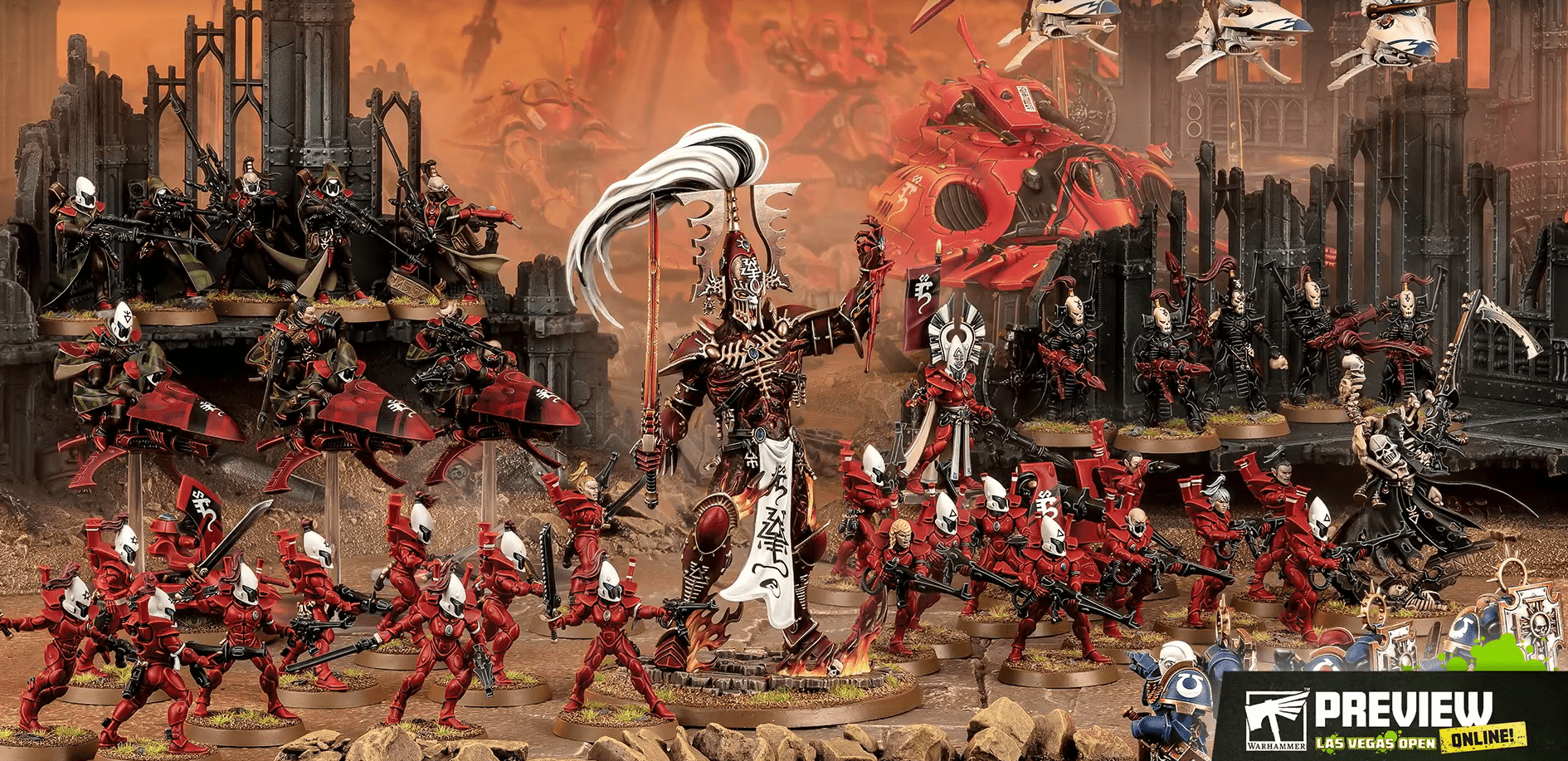 It looks to be at least 3 guardians wide, which appear to be in 32mm and not 27mm bases when you compare them to the Space Marine Bladeguard in the lower right frame. All that of course is just speculation on the sizes from the images we have currently.
New Maugan Ra
Maugan Ra, the Harvester of Souls also makes an appearance with a brand new model. Like many of the newer Aeldari characters, he steadies himself on ruins, ready to spread death from afar.
As you can see, the progenitor of the Dark Reapers is packed with skeletal detail in his first-ever plastic incarnation.
New Plastic Eldar Shining Spears Jetbikes
Like the other upcoming Aspect Warriors, these Shining Spears are packed with options and can be assembled with or without helmets for an army of Ynnari. One can be built as an Exarch with a powerful star lance or paragon sabre, and a shuriken cannon slung below his ride.
The last addition to the new Eldar lineup in the preview is a set of Shining Spears. The new kit is entirely plastic, and the riders come equipped with never-before-seen helmets.
NEW ELDAR RELEASES
The Preview Team made a specific note to say that this is NOT all of the new Eldar miniatures to be released, but the Warhammer Community did say this was all the new Eldar.  So keep an eye out for more to come either way in the future.
If you missed the lastest few previews from GW in 2021, you can get all caught up on those from our coverage below:
Are you excited about all the new plastic Eldar Models that are on the way? 
Let us know in the comments of our Facebook Hobby Group, and make sure you enter the latest monthly giveaway for FREE today! 
Get ad-free access to our hobby videos, a monthly crate of miniatures, and support some of the best creators out there for as little as $6 a month on Patreon!