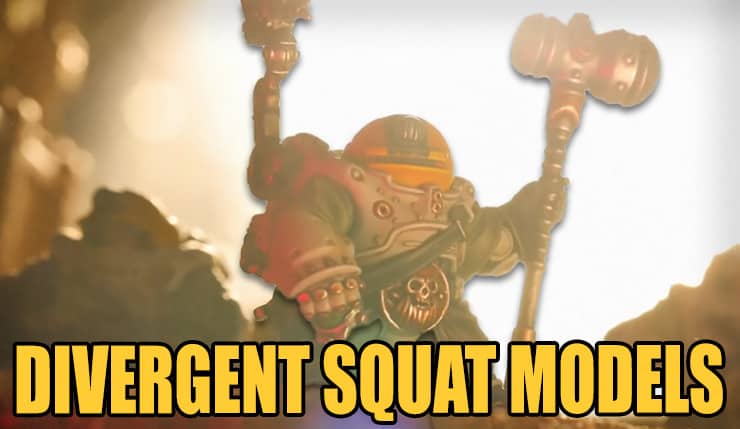 Warhammer Fest revealed what to expect next for Necromunda, including these new Divergent Ironhead Squats Prospectors!
Another big online GW Preview for all things Warhammer is here! Catch all the latest reveals from  Warhammer TV  and Warhammer Community and our commentary! It looks like you're in luck for those hoping for new models coming to Necromunda!
GW Warhammer Fest Preview
As with last year, there'll be four full days of online reveals, each with a different theme. But Warhammer Fest has traditionally been an in-person event – and we'll be back in the flesh this year, with a huge Horus Heresy open day on the final day at Warhammer World.
The action kicks off on the 4th of May, with a day dedicated to Warhammer 40,000 – including more than a few unexpected surprises. Warhammer Age of Sigmar gets the treatment on the 5th of May, with new units, new battletomes, and new characters. Then the 6th of May is skirmish day – a treat for fans of more than a few Warhammer game systems.
It's good to see both AoS and 40k getting their own days because hopefully, this means tons of reveals along with Horus Heresy and Specialist Games.
New Divergent Ironhead Squats Prospectors Coming to Necromunda!
Yes, you wait 30 years for the return of the Squats, and then they all come back at once! These are the Ironhead Squat Prospectors – tough and resourceful miners out in the ash wastes who are more than capable of defending themselves from anyone that tries to take the treasures they dig up.
It looks like Squats are taking over all the aspects of the 40k universe, and these are divergent cousins of the Leagues of Votann kin!
The gang comes loaded with cool kit from boltguns to heavy stubbers, and they're not afraid to use mining equipment like stone burners and power hammers in a fight either.
They say they will be slow but super tough, good at shooting, and have great tech!
These really harken back to the days of old, which is just awesome for anyone who really has that hard-hitting Squat nostalgia.
When the Imperium went through its rebuilding was Necromunda, Squats settled there, and guess what? They are still there kicking butt and searching for treasure. They are actually quite distant cousins, supposedly from the Leagues of Votann. So we're not sure how they will work together, or if they are just totally something their own.
They mention they are super far apart, so we doubt they can be used in Warhammer 40k with rules. But then, they say they have some shared heritage, so who knows?
Book of the Outlands
There will be a new book coming along with the Ash Wastes and a ton of lore plus tons of new rules for campaigns out in the dusty wastes.
If you missed the latest few previews from GW, you can get all caught up on those from our coverage below:
Are you excited about all the new Divergent Ironhead Squat Prospectorsminiatures?
Let us know in the comments of our Facebook Hobby Group, and make sure you enter the latest monthly giveaway for FREE today! 
Get ad-free access to our hobby videos, a monthly crate of miniatures, and support some of the best creators out there for as little as $6 a month on Patreon!