Looks like stores in Japan are finally getting twelve new Space Marine hero figures. Come checkout the pricing and additional details on these miniatures!

The twelve new Space Marines were first spotted in March, and started making there way into stores back in May. Now it looks like they'll also be available online for Japan shoppers. We have more information and some spectacular new miniature shots of them via GoodSmile
Goodsmile is reporting that they will go on sale on 9/2017, but may be available as early as 30 July 2017 at Wonder Festival.
Product Details

Product Name

Warhammer 40,000: Space Marine Heroes Series #1

Series

Warhammer 40,000

Manufacturer

Games Workshop

Category

Plastic Models

Price 

¥694 Each (Before Tax)  

694

 JPY = $

6.23 

USD

Release Date

2017/09

Specifications

PS assemblable plastic model kit. Not to scale. Base included. Each approximately 45mm in height when built. Total of 12 to collect including 2 secret models. Box-set contains 24 models.

Released by

Max Factory

Distributed by

Good Smile Company

Please note that images shown may differ from the final product.

 
Warhammer 40,000: Space Marine Heroes Series #1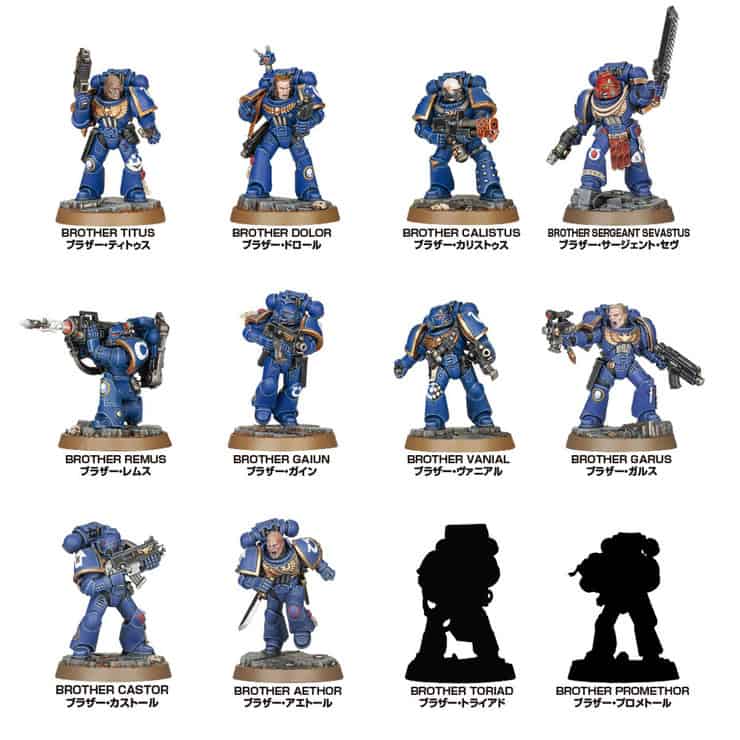 Release Date: 2017/09

A new series of plastic models that require no nippers or adhesive; exclusive to Japan!

Games Workshop's popular "Warhammer" miniatures released as a special Japan exclusive version! The models feature an all new design and completely new sculpt for a unique plastic model made in the UK and brought to you by Max Factory.
The palm-sized runners have intricately sculpted parts that feature partitions and details never before seen on plastic models.
There are a total of twelve models to collect including two secret models. Each is in a sealed box, so you will only know which character is it after opening. Collect them all to complete your army of Space Marines!
Each figure costs just 750JPY making it easily accessible to new players. Purchasing a complete box will of course include all varieties.
The blue mold color brings out an impressive look event without paint, but adding paint makes for an even more amazing appearance.
The Space Marine Heroes are of course great just to collect and display, but they can also be used in the Warhammer 40,000 miniatures game.
The models are packed with detail and all the partitions differ in fantastic ways, making each model an exciting build for anyone!
Warhammer is one of the most well known miniature games worldwide, and now can be enjoyed in the same amazing detail even by plastic model fans!
*This product will be on sale prior to release at Wonder Festival 2017 (Summer) taking place on the 30th July 2017.
So it looks like they will be available for the general Japanese public sometime this month, at least at one event for around $6.50 US. It is unclear however if they are importable to the US or if Games Workshop intends on expanding on their availability to outer contries.
Warhammer Harajuku posted a couple pictures of their display, let's take a look.
If those bases are 32mm like the current Tactical kit, do you think these marines are significantly taller and wider than their multi-part kit counterparts pictured below?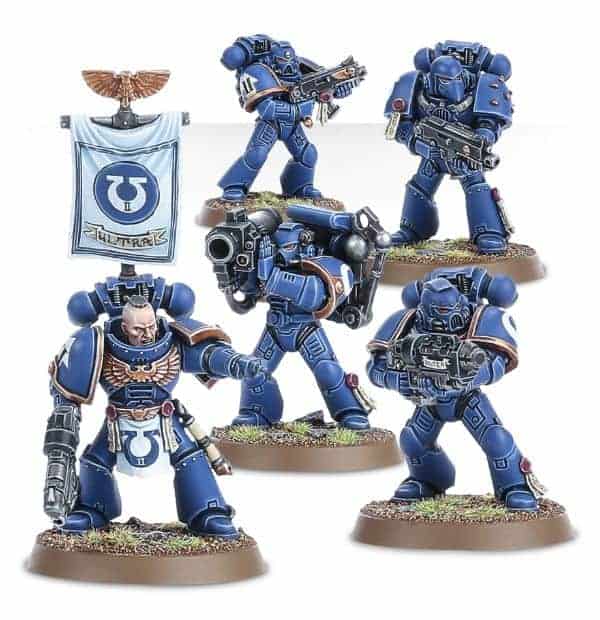 Current Space Marine Tactical Squad
Is that a rocket leaving the barrel of the rocket launcher? We're also seeing the blue plastic again, is Games Workshop doing away with their normal grey, or is this the case of the Vedros "starter push-fit" marines?
But what about the rest of the world? Are these going to be available anywhere else in the future? Brother Dolor, Brother Remus, Brother-Sergeant Sevastus, Brother Calistus, and Brother Cast were all announced to be included in the first part of this series. We haven't heard anything about the second part of the series yet, or the models that will be included, so be sure to check back in with us for the latest updates.
What do you think about these new Space Marine Heroes? Should they be available everywhere instead of being dedicated to just one region? Let us know your thoughts in the comments below.