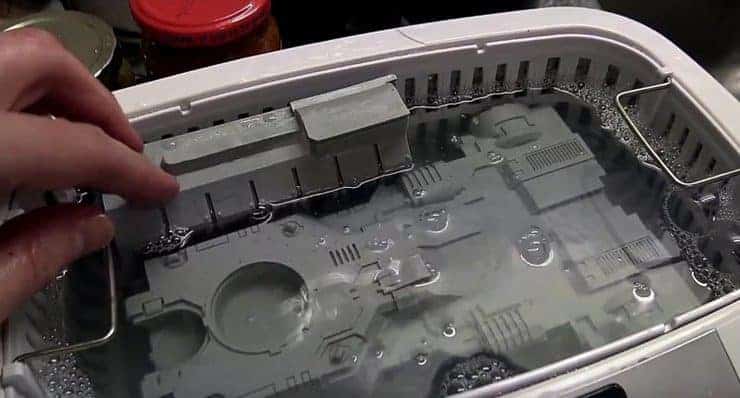 Tired of mold release on your Forge World minis, but don't have enough drive to wash them all, well this Ultrasonic cleaner will make short work of all that prep time for resin miniatures.
Cleaning resin can be time-consuming and annoying having to scrub all those small details with a toothbrush.  When working with small amounts of resin on a very rare occasion, that can work. However, if you are constantly working with lots of resin or plastic minis, an ultrasonic cleaner is a great option for cleaning your miniatures faster.
Take a look at this quick overview of this GIANT sonic cleaner and be sure to press play on the video below to see the entire review!
Large & Lengthened stainless steel tank — Suitable
for long dental equipment and tube. Tank Capacity: 5.29 pints (2500 ml). Tank Size: 9.84″ (L) x 5.90″ (W) x 3.15″ (H). 2.62″ deep to max line (2100ml capacity to the Max mark). Strong plastic basket (material ABS 757) — Better water-proof and drop-proof ability than metal.
Strengthened transducer makes the ultrasonic more powerful (35 KHz and 160 Watts cleaning power) and provides remarkable cleaning results.
Heater — Safety and reliable with temperature up to 65 degree in Celsius (149 degree Fahrenheit ) and time (45 minutes) controller — significantly enhance cleaning. Industry IC — To be steady in unstable voltage condition.
Digital program, 5 working cycles; choose freely (90, 180, 280, 380, 480 seconds). It enhances cleaning efficiency and makes it easy to operate. Some Industrial spare parts being adopted, allows its working in long time frame, and in dampness environment.
Circuit protector — Protect the circuit to lengthen unit life. Radiator Fan — To protect every part in good condition after working a long time. Wet-proof PCB — Good to be used in lab. Comes with a quality basket. AC 100-120V. Weight: 5.5 lbs. One year warranty.
There are various sizes of sonic cleaners on the market, but this one works well for working with a lot of resin or large resin components for sure!
On this particular cleaner, you can set a timer to clean as long as you wish to. The tank is large and has several different cycles and temperatures. The tub even has a removable basket, minimum and maximum fill lines, durable lid, and plenty of space for resin pieces!
To start the process, just add a little soap plus water to the fill lines to the tub. You can use hot water or use the heat function built into the tub. Set the time desired and fill with resin pieces you wish to clean. Then, set it and leave for the time set while the machine buzzes away!
Once the timer hits zero, pull out your models and rinse with water, then set them somewhere to dry. Putting them by a fan will help them dry faster. This will also work if you need to bend and straighten resin as well.
If you're working with a lot of resin, this is a great way to clean lots of components fairly quickly. For bending resin, the heat gun may be faster, but this could help if you need to bend and readjust a lot of it at once.
There are also smaller options on the market if you are looking for something like this but don't want such a large tank/price!
ULTRASONIC CLEANER CLEANS WITH WAVES Using only water, the ultrasonic cleaner generates 42,000 Hz of ultrasonic waves that gently remove dirt and grime in short amount of time without using harsh chemicals. Safe for almost anything, like jewelry, watches, eyewear, personal care like dentures or shaving blades, and small household items, like keys and small tools, or utensils.
Take a look at how easy it is to wash your miniatures with this ultrasonic cleaner by pressing play on the video below!
This post contains affiliate links, meaning that Spikey Bits will earn a commission if you click through and make a purchase.