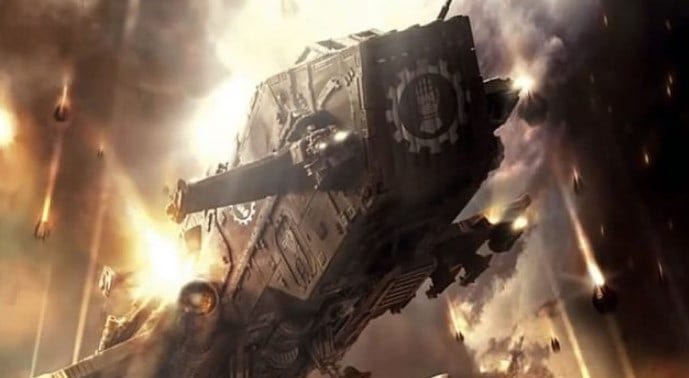 Forge World announced they have faster shipping times, cheaper shipping costs, and a local US warehouse. But are things really better now?
Warhammer Community announced new changes for US customers ordering Forge World miniatures for delivery here in the states.
The good news is that Forge World has decreased shipping times and costs. There's even a fully operational Forge World Warehouse in the United States as well as the ability to use your own currency on the site. But are we really getting the better end of the deal or is this some clever business model?
Remember our old post on Games Workshop's pricing model?
Buying From the Games Workshop Store GBP £ vs. USD $
As it turns out, if you select your location to US currency, the price gets automatically marked up higher than it should be for a 1:1 conversion.
Let's look at Games Workshop's website and pick an item to look at in Pounds. The Betrayal at Calth / Burning of Prospero box bundle is a good start.
This HH bundle sits right at 190 Pounds. So now let's look at the cost in US currency from the US site, delivered from the US.

The USD version of Calth bundle costs $300. Now by using XE.com, a money converting site, we can check the mark up between the two.
So going by the price of Betrayal at Calth/ Prospero bundle in Pounds, the boxes should only cost $246 here in the states. Why is there almost a $60 increase just because we're buying from America?
Forge World has just followed suit with this pricing convention we pointed out two weeks ago.
Forge World Raise Prices Substantially For US Customers
To celebrate the news of faster shipping and reduced shipping costs, Forge World is running a deal to get free shipping for any order over $120 USD or equivalent per currency.
This looks fantastic at first, but are you really saving money here?
If you bought a Leviathan Dreadnought from Forge World yesterday August 21st, 2018, it would have cost you $93.
However, let's look at what it would cost you if you bought a Leviathan after this announcement.
Now, you don't have to convert your money into GBP or go through Paypal to pay for your items.
With a US warehouse and an updated site, you can pay for everything like you would anything else.
If you bought a Leviathan Dreadnought today, it would actually cost you $112. It jumped from $93 to $112 overnight for the EXACT same model.
Going by the money converter, if something costs $112 USD, it should cost 87 GBP. But the Leviathan only costs 72 GBP. Why the price jump?
We aren't sure what's causing the price jump but Forge World has officially followed suit with Games Workshop.
This is just one example. Let's look at another.
Forge World Sicaran
a 79 GBP Sicaran should actually cost 102 USD. But let's look at what it's listed when you select your delivery location to the United States on Forge World.
It turns out that it's actually 123 USD. That's $21 going away to Forge World. Again, if you bought a Sicaran yesterday, it would've actually only cost you $102. But today, it automatically costs $21 dollars more for the EXACT same model.
"So why don't you just set yourself to the UK and convert your currency?" Well, you can't. The website is set to "Deliver to (location)." You are basically forced as a customer to accept their prices or move on. Converting your money is a thing of the past.
If you are interested in having your voice heard on the matter, there is a petition you can sign right now about the dramatic price increase over on change .org
Initially, it sounds fantastic that you can use your own currency and have faster shipping when ordering from Forge World, but is it worth the egregious price jump?
What do you think about the announcement? Let us know in the comments of our Facebook Hobby Group.
Latest updates on everything from Forge World
Spikey Bits Latest
Latest Long War Podcast - Listen NOW!