Take a look at some of the best resin alternatives to Forge World out there for the tabletop that aren't going to make your wallet cry.
These are are our picks for the top best miniature alternatives to Forge World out there. Best of all they don't increase their costs substantially for consumers purchasing their products in their own currencies.
Artel W offers a HUGE selection of miniatures that can be used as Forge World replacements or even out of print models that are almost impossible to find.
Let's look at a few.
The Captive Unleashed model would be absolutely perfect for a Daemonhost replacement.
A ton of Imperial Guard models were essentially taken out of existence earlier in the year. You can still start your favorite Guard faction using this model as a commander.
Be sure to check out their site for something that you're looking for. Their selection is massive.
Creature Caster is known for high-quality resin miniatures that resemble models and units from multiple different games. They always provide stunning models and the best part is that you can buy their models in several different currencies for local delivery as well.
Check out some of their most recent figures.
For a close up look at Creature Casters quality, check out their King of War model, one of my personal Top 5 minis of all time.
These new bits from The Green One are a great way to upgrade your new Ork project for a decent price. They also ship for free to the UK!
Da Green One seems to have your back with instruction downloads, and guides for working with their models that they sell as well!
Wargame Exclusive  is perfect for finding the replacement models you can't find anywhere else or if you don't want to burn a hole in your wallet.
Take that named Librarian in your Blood Angels Chapter to a whole new level with the Imperial Death Lord.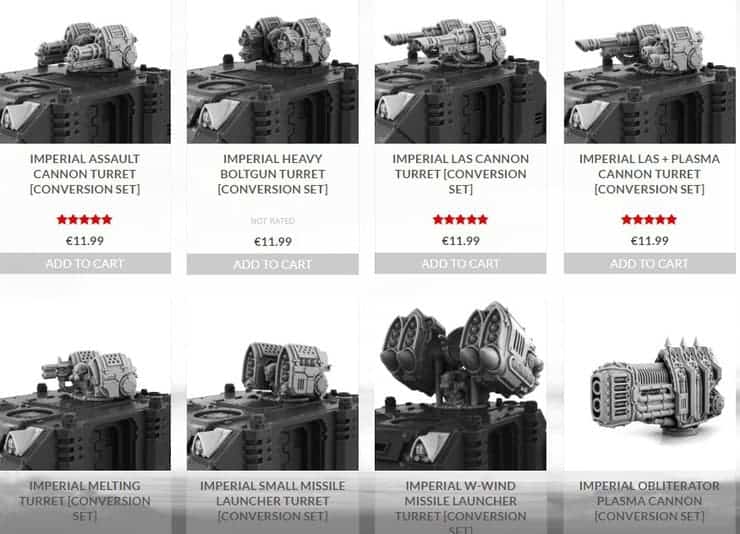 Like we've said before, Forge World likes to put some of their bits on Last Chance to Buy and once they're gone, who knows how long it'll take before they're back? Wargame Exclusive keeps the great alternative bits and models in stock for you to flesh out your army exactly how you want.
If you were wanting to get a break down of some more models they offer, check out this video.
Titans and miniatures of all shapes and sizes, and recently have started producing their own themed miniatures as well

Their Titanicus Scale alternate Warlord looks great!
If you want full-scale titans they got you covered as well, for a good price:
Kromlech is the more "fun" side to miniature detailing. They have great quality figures with uniqueness you can't find anywhere else. Take a look at some of their products.
Watch this video to get an idea of what you'll find inside the box you order!
This website is unique as it specializes in offering custom bits rather than entire models.
If you've already got most of your army together, spice things up and add that extra level of detail by using these bits. You could even go with a custom look from their unique offers.
There are a lot more companies out there that don't get the spotlight they deserve. Try some of these brands and see how you and your wallet likes them.
Have you ordered from these companies before? Let us know in the comments of our Facebook Hobby Group.
Spikey Bits Latest
Latest Long War Podcast - Listen NOW!