New box art and rules are on the way for Primaris Space Marine and Necrons for 9th Edition Warhammer 40k as stores get more stock shipped to them.
We had seen images of a new IKEA style 40k rules recently, but it looks like that is not all that's changed for 9th Edition, new box art is here too!
First spotted on sites like Miniwars and La Voz de Horus, we saw pictures of newly redesigned 40k datasheets, and we also got word that the datasheets for the new Necron and Primais units like the Invader ATV will be coming inside the new Starter Sets as well.
New IKEA Style 40k Rules Datasheets For 9th Edition
Found in the core book/free rules download on WHC, we've got a legend of symbols for what the new datasheets will be looking like.
Moving onto one of the first pictures to get the spotlight on the web, the Invictor Warsuit is shown to have all of the letterings out of the datasheet taken away. They've been replaced with symbols just like what we talked about from above.
It's important to note that while the symbols have changed, the order hasn't. If you know the sequencing of datasheets it shouldn't take too long to get the hang of the new format.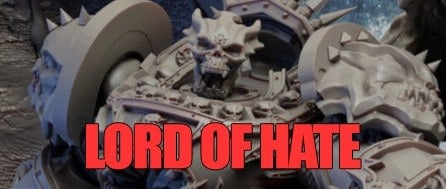 New 40k Rules Datasheets & Box Art LATEST!
Here are some exclusive images a retailer sent us that show an Invictor Warsuit in what looks to be a new style of box art for Warhammer 40k!
Looks pretty stunning from here!
When I saw this I immediately ask him to check the instruction manual, to see what it looked like, because of the symbols GW used for the "model, paint, play" on the bottom row.
Turned out that new IKEA style symbol datasheets we had been seeing for Necron and Marine units this week may have just been inserts from this upcoming new style box layout for at least those two factions.
And why not, they are the star of Games Workshop latest 40k edition reboot and featured all over their new cinematic trailer.
New Necron & Primaris 40k Rules Datasheets
You can check out the full break down on these two units that we did earlier if you're interested. But there were a few things on the datasheets that left players confused. For example, the plain multi-melta is Heavy 2 with D6+2 damage within half range. i.e, not the reroll the damage roll rule that we're used to seeing.
If you also noticed, there's no keywords on these datasheets like Angels of Death either.
Necrons Are in the Same Boat
We also did a breakdown of these two units that you can check out as well. Although, they're pretty much in the same boat in terms of keywording. For example, there are no Reanimation Protocol/Living metal- type rules found.
Because faction rules were missing and the known profile of the multi-melta were noticed to be changed, a bunch of people in the community began to think that these were just some old beta testing datasheets that surfaced. However, now that an official word from GW just came out, it looks like these datasheets may not be outdated at all.
GW Confirms New Necron & Primaris 40k Rules Datasheets!
In a recent post on the tiered starter sets, GW mentioned that those datasheets for the four units we highlighted above come inside the box!
…Thankfully, the manuals included in all three Starter Sets feature some suggested additions for the collections in the boxes. Not only that, but as an added bonus, they also include the full datasheets for these new units as well as an extra mission designed with their inclusion in mind! They may not be available just yet, but keep an eye out for the Primaris Invader ATV, the Primaris Firestrike Servo-turret, the Lokhust Heavy Destroyer and Canoptek Doomstalker, as they're all coming soon!
It's worth mentioning that we've seen content like codexes in the past release with already outdated wording (like when an FAQ strikes early) so that doesn't mean that those datasheets from above are "current".
It's still certainly on the table, but at least now we know that these kits are probably the ones that are queued up next and we have a solid idea of how they'll play!
New 9th Edition Datasheets Show Necron Wraith Statline Update
As we saw earlier today, some units are getting updated rules with their new datasheet format release.
At first glance, you might not notice anything new besides the format. But take a closer look at its statline…
From what we can see, we've got
-1 Weapon Skill



-1 Ballistic Skill

-2 Strength (although the vicious claws had +1 Strength added to their weapon profile)




+1 Attack

+1 Armor Save
Particle Caster now 2 shots instead of 1
Transdimensional Beamer now 1 shot at S6 -3 AP 3 Damage (totally different from its current profile)
Whip Coils now do 1 damage and only have -1AP (nerfed from -2AP 2 Damage)
There's been a lot of discussion on the changing of stats. While it might look like a nerf at first, with the help of an Overlord, they actually have a higher chance of doing more damage.
One user on Reddit broke down the math. The chance of hitting stays the same without buffs. But with an Overlord's My Will Be Done rule, you actually have a better chance of getting more hits than before.
Another good point to make is that GW did adjust their armor save on the profile. It used to be a 4+ Sv with a 3++ invuln. However, as we've seen the new Primaris storm shields get nerfed to+1 Sv/4++ invuln, Wraiths and other units may be following suit.
Overall, it's difficult to tell if Wraiths got nerfed or slightly bumped up. We'll have to see what the rest of the faction's units look like once they get their codex in October.
So what do you think of the new Warhammer 40k box art, and IKEA style datasheets?
Let us know in the comments of our Facebook Hobby Group, and make sure you enter the latest monthly giveaway for FREE today! You can also support us on Patreon and get ad-free access to the site, plus a ton of minis that helps support some of the best creators out there!