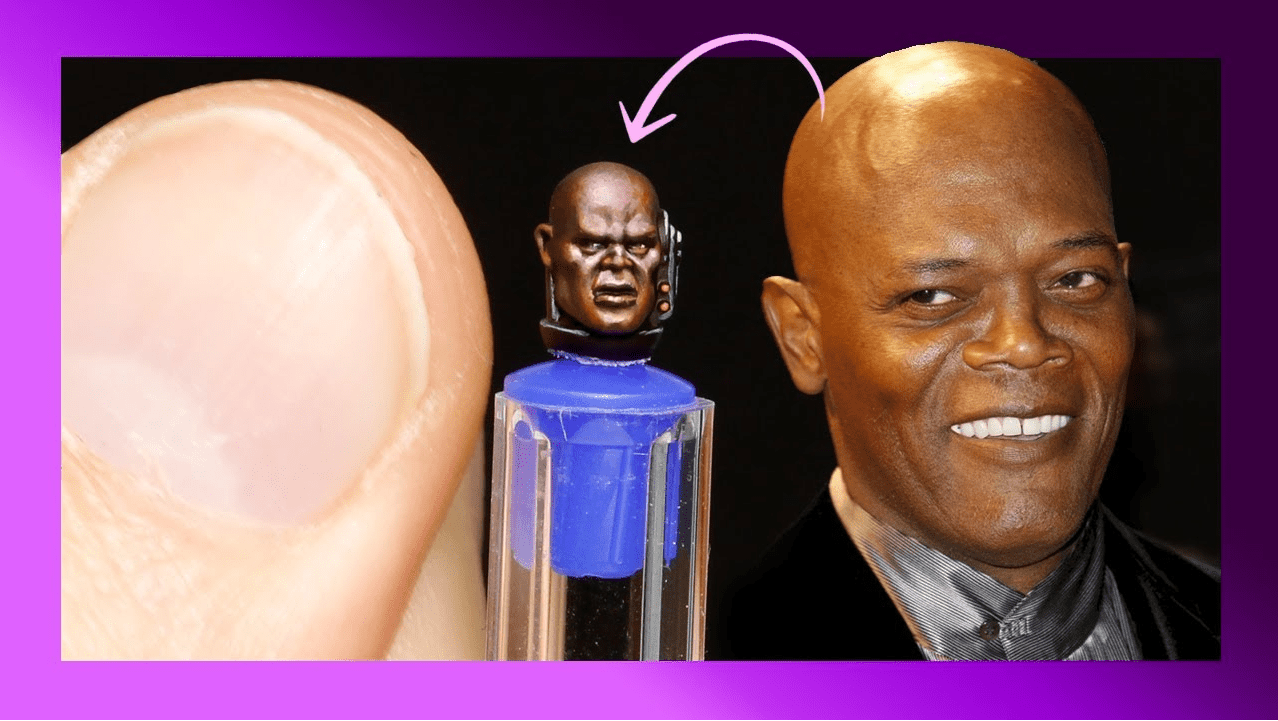 Learn how to paint dark skin tones by painting up this Samuel L Jackson in this tutorial from Sergio Calvo- check it out!
Sergio Calvo is one of the premier painters out there right now and has a ton of great painting tutorials (as well as awards under his belt). Each is quite in-depth and shows you how to accomplish a certain look. Most of the videos are broken down into parts for a single model, so just keep that in mind.
In this painting tutorial, we're painting up a head from start to finish, that is based on a famous actor you might well know!
Be sure to follow his YouTube channel by clicking here!
How to Paint Dark Skin Tones: Sergio Calvo Tutorial
He starts out by doing a zenithal style highlight on the head, now let's see how to do the rest!
Step 1:
He starts by mixing water, Rhinox Hide, and Hexed Lichen on his wet palette and covers the entire head. Once that is on, he mixes in more purple and starts picking out some of the highlights. After that, he added an even lighter purple to the mix and hits the majority of the head and highlights.
Step 2:
After that, he adds a decent amount of water to Saddle Brown and continues to highlight the raised areas, however, he's still covering the majority of the head here, leaving just the recesses with the previous mix. As you can see above. He also does this in a few passes.
Step 3:
Next, he adds Pastel Pink to the mix and just starts picking out the highest highlights like the nose, chin, and cheekbones. He then blends more Pastel Pink into the mix and hits an even smaller highlight.
Step 4:
Now, takes water and Mahogany mixed together and hits the recesses of the face with this and any spot he wants to darken, like some of the pastel areas from step 3.
Finished Head:
There you have it an amazing piece of work that looks a lot like the inspiration! Now go get painting.
Have you used any techniques or painting tutorials from Sergio Calvo videos before? 
Let us know in the comments of our Facebook Hobby Group, or our new Discord server, and make sure you enter the latest monthly giveaway for FREE today! 
Get ad-free access to our hobby videos, a monthly drop of miniatures, and support some of the best creators out there for as little as $6 a month on Patreon!

This post contains affiliate links, as an Amazon and eBay Associate Spikey Bits earns from qualifying purchases.