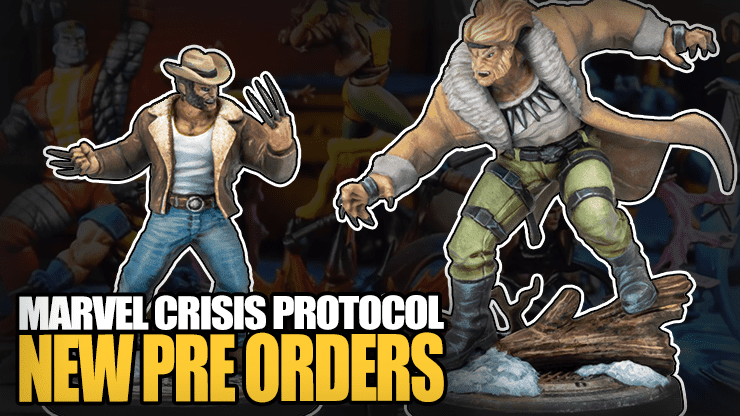 The new MCP Rival Panels Weapon X Program isn't the only pre-order, as The Blob and Pyro have also been spotted- check it out!
AMG has kept the releases pumping out for the game, which is awesome! If you haven't made the dive into the game yet, you should, as they have a ton of cool minis. Playing with your favorite heroes from the comics and movies is just plain old fun. On top of that, in this set, you even get a pretty sweet motorcycle for your bases!
One of the most recognizable rivalries in all of X-Men between Logan and Sabertooth will be the focus of the first new set, then The Blob and Pyro will be taking the second spot of pre-orders! We saw these teased at the ministravaganza, so even though we had an idea they were on the way, it's good actually to see them hit pre-order.
Just note that either set will not be hitting stores until at least 12/9/2022. Let's check out the new expansions!
Click here to order yours: | Amazon | Asmodee Website |
These should be a fun addition to the game with some cool rules, especially considering there will be 6 Tactic Cards in the set, perhaps a whole new run of faction-specific cards like we saw with Nick Fury Jr. We expect to see some of those cards soon, so hopefully, we'll know what they can do before the pre-order finishes on 12/9/2022. If you want to see all the recent expansions, check those out here!
Here's what they have to say about the new pack:
The famous rivalry between two of the deadliest weapons to emerge from the Weapon X Program hits the tabletop with this new pack for Marvel: Crisis Protocol! Logan once counted Sabretooth among his few friends as the pair fought beside one another on a covert team, but Sabretooth's unshakeable bloodlust tore the team apart, and now they face off as bitter rivals.
Featuring beautifully sculpted new miniatures of Logan and Sabretooth, this pack adds new versions of these iconic characters to players' rosters and introduces the new Weapon X Program Affiliation to Marvel: Crisis Protocol.
Additionally, players will also find 6 Team Tactic cards that further enhance Logan and Sabretooth's abilities as well as several props that allow players to customize their bases.
Yep that is right new rules version of both Logan and Sabretoon, as well as a brand new affiliation, kicks off with this box!
Click here to order yours: | Amazon | Asmodee Website |
This is another cool addition, as The Blob and Pyro are just such fun and, honestly, a little ridiculous characters wise.
Here's what they have to say about the set:
The immovable Blob and fiery Pyro make their Marvel: Crisis Protocol debut in this new pack! Fred Dukes, known to many as the "Blob," has the superhuman ability to become virtually immovable at a whim while in touch with the earth. Joining him is St. John Allerdyce, more commonly known as Pyro.
Allerdyce can shape fire, increasing or diminishing its heat, intensity, and size, making him a menacing addition to any team. Together, these characters supplement the Brotherhood of Mutants Affiliation with their mutant abilities and three Team Tactic cards that give them even more ways to work together with their teammates.
Here's hoping for more two and three-threat characters for the Brotherhood!
Will you be picking either of these new expansion packs up? What is your favorite rivalry in X-Men?
Let us know in the comments of our Facebook Hobby Group, or our new Discord server, and make sure you enter the latest monthly giveaway for FREE today! 
Get ad-free access to our videos, a monthly drop of miniatures, and support some of the best creators out there for as little as $6 a month on Patreon!

This post contains affiliate links, as an Amazon and eBay Associate Spikey Bits earns from qualifying purchases.