A new exclusive 40k miniature is on the way from Games Workshop for Warhammer Day 2023, as the Leagues of Votann take center stage!
While new exclusive Games Workshop miniatures are always cool, they will also have a preview for a bunch of games this Warhammer Day. So, it looks like one new miniature is just the tip of the iceberg. Especially considering this is the 40th anniversary, we expect the preview to be big! 
If you play Votann, this is the second exclusive mini you can score to keep your collection growing!
Let's check out the new miniature and Warhammer Day preview.
Warhammer Day 2023 Exclusive 40k Miniature & Preview Announced!
The latest on the new Warhammer Day 2023 exclusive miniature comes from Warhammer Community.  See All The GW Exclusive Warhammer Miniatures You Can Still Find for a list of everything available out there today, or on the way soon!
The Ancestors' Wrath is an Einhyr Champion standing at ease, bearing a stag crest on her armour that's mirrored by a motif on her shield. She also has a choice of three different heads – helmeted, lifted visor, and bare.
The Einhyr Champion is already a fantastic model, but it's always nice to have a different pose you can throw down on the table! They also mention you can pre-order this, just like last year's, meaning you won't have to go to the event to grab it, which is suitable for everyone!
The Leagues of Votann are a faction derived from the earliest days of Warhammer 40,000 history. They took a long leave of absence, but now they've returned to stake their claim on the most valuable materials in the galaxy in order to protect their Ancestor Cores. 
It looks like the kit will either come with extra heads, or they are just showing you can fit any of the heads from the Hearthguard kit. Either way, this is a great-looking mini.
Warhammer Day Previewed Announced
Warhammer Day comes but once a year – a global celebration of the best hobby in the world. This year, it'll be held on the 14th of October – and we're marking the 40th anniversary of Warhammer as we know it. 
Well, what about a Warhammer Day preview? We'll be providing a glimpse at the future of Warhammer in the guise of exciting new miniatures! You will not want to miss this.
They don't give too much of a hint at what to expect, but we imagine plenty of minis, especially some previews for the new Warhammer 40k codex books after Space Marines.
Now, let's check out some of the previous years' Warhammer Day Exclusive miniatures:
Warhammer Day 2022 Exclusive Emperor's Champion Miniature & Preview Announced!
Warhammer Day is the global celebration of your favourite hobby and this year it's extra special, as we commemorate the 35th anniversary of Warhammer 40,000! We'll take a nostalgic look back to see what's made the grim darkness of the far future the setting that it is today, and look forward to what's coming next.
Entitled Bayard's Revenge, this astounding model features an Emperor's Champion triumphing over a mighty Ork Nob. It's an incredible miniature to add to your collection, an amazing painting challenge, or a splendid centrepiece for a Black Templars force. And what's more, it's based on an iconic piece of Warhammer 40,000 artwork.
You'll be able to pre-order this incredible duel from the 8th of October from the Games Workshop webstore, or you can pick one up from your local shop between the 15th and 23rd.
This exclusive Emperor's Champion miniature model is actually just really, really cool! We're guessing it will be MTO so that everyone can get one, but they may do just a regular sale, and in that case, be sure to get on the pre-order early.
Warhammer Day 2021 Exclusive Minis Revealed
Warhammer Day returns once again on the 30th of October 2021. We're marking this momentous day with not one, but two incredible commemorative edition miniatures and an absolutely massive online preview of some of the major releases slated for the rest of 2021 – and beyond.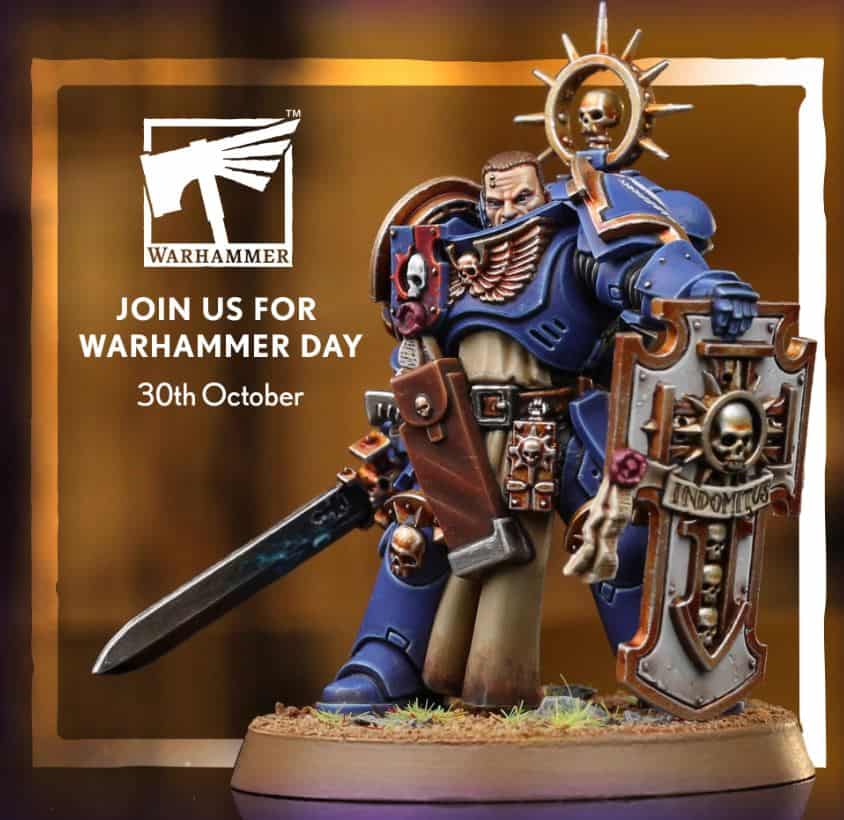 Who doesn't need another Lieutenant in their army? Well, if you're already overflowing, get used to it, we guess…?
Phwoar. This Primaris Lieutenant With Storm Shield will be joined by the Vampire Lord Anasta Malkorion, with both miniatures available for a strictly limited time starting on Warhammer Day itself, the 30th of October, until the 7th of November. Anasta Malkorion will be available in stores and online, but you'll only be able to acquire our brave Lieutenant from Games-Workshop.com.
2020 Commemorative Mini
This Termie will be usable in every Chapter, including Deathwatch and Grey Knights. The perfect mini to add that extra bit of fervor to your army!
Chaplain Tarentus will be available in stores and online from Warhammer Day itself until the 8th of November – so make sure to order yours while you can!
They don't mention whether or not it will be available just in GW stores or LGS as well, but judging by last year's, independent stores may also be included. We'll have to wait and see if local stores will have some on hand.
They also don't mention how many will be available, so we would recommend getting in early before they sell out.
Will you be trying to grab this new Leagues of Votann Exclusive Games Workshop miniature?
Let us know in the comments of our Facebook Hobby Group, or our new Discord server, and make sure you enter the latest monthly giveaway for FREE today!

Get ad-free access to our hobby videos, a monthly drop of miniatures, and support some of the best creators out there for as little as $6 a month on Patreon!