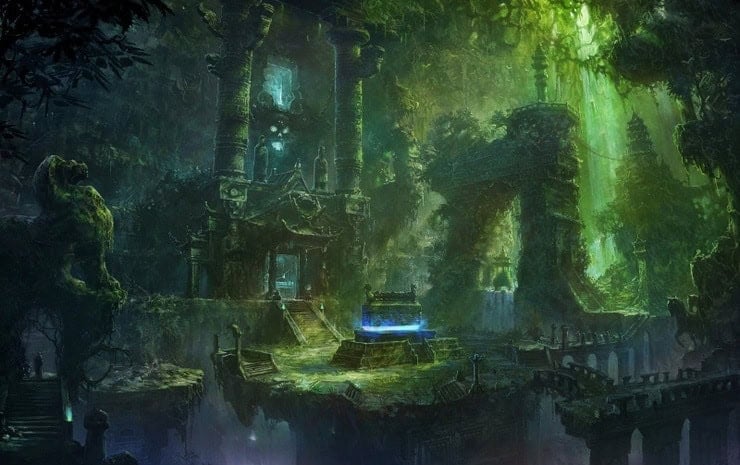 DriveThruRPG has a brand new printable battle maps package available now from Heroic Maps. Get ready to have your scenarios set in a jungle temple!
Heroic Maps specializes in printable battle maps, terrain, and cards. Their latest offering, the Teoyohtlan Jungle – Cave of the Golden Tombs is available right now on DriveThruRPG. Teoyohtlan Jungle is inhospitable and terrifying. The Cave of the Golden Tombs is an ancient crypt that can be found on a jungle path. A river divides the tomb into to parts and both are sides are overgrown. A sarcophagus can be found somewhere inside and is full of treasure.
The Teoyohtlan Jungle, an inhospital region of dense forest, biting insects, and scaled terror, is home to many ruins and lost cities. One such location is the Cave of the Golden Tombs, an ancient crypt complex broken by a waterfall. Some say a golden sarcophagus lies somewhere within the ruins. A printable battlemap compatible with any RPG/Dungeon-Crawl game. Use as a standalone gameboard, or combine with any same-scale tileset.

Contents: A 20×30 battlemap depicting the overgrown jungle tomb complex. The tomb is reached via a jungle path that then leads up the cliff, beside a waterfall. The tomb itself is separated by a river, but each side is overgrown. The base of the waterfall reveals a cave, which leads to another map (15×15), this one depicting a golden sarcophagus and treasure.
Included:

A pdf with 300dpi tiles ready for A4 printing

A set of 300dpi full size jpeg files, for poster printing

A set of 72dpi (140x140px) jpeg for Roll20 & other VTTs
The Teoyohtlan Jungle- Cave of the Golden Tombs battlemaps are available now. To see Heroic Maps' full product listing, click
here
!
For more on the Lich's Lair and other great RPG resources, visit
DriveThruRPG
!