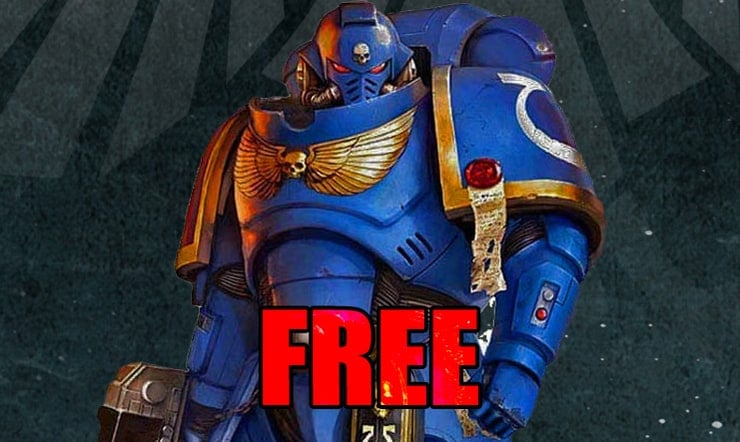 This new collectible Imperial Coin and a free Warcry miniature are the latest in-store promos- check out how you can score them!
The free miniature and coin promotion have been going for well over a year now (well counted in coins, not necessarily actual months). To participate, head to your nearest GW store, and if you spend $100, you get the coin (while supplies last). 
But all you have to do to get the free figure is just walk in and ask, well while supplies last that is… 
Warhammer Community just unveiled the latest new coin and mini so if you want the coin, save up at least $100 to spend.
They do one of these promotions monthly and the coins are based around a new faction getting a release next. Also, if you collect at least six of the coins, you can score a nice little binder to hold them in.
Let's look at some of the most recent coins, then jump into the new stuff. 
May: Chaos
As rumored, the new free 40k miniature and Warhammer collectible coin promotion are both for Chaos!
You may get a model that looks a little different from the one above, but rest assured they all have the same fanatical devotion to the Ruinous Powers.
All of the cultists from the BSF box are pretty sweet, so this is an awesome mini offering for the month. You could easily find other uses for a single one of these cultists in your other games!
While you're at it, you can even find out how to get hold of the profanely glamorous commemorative coin!
Ruinous powers rejoice! This coin looks sweet and simple and has the Chaos star on the front side.
June Free Mini (No Coin):
You can head to your local store to pick up this model from the 4th of June, while stocks last. Your model may look a little different from the one above, but that's the infinite variety of Chaos for you.
July Free Mini: Skaven
Those of you who worship the Dark Gods have had their prayers answered – hot on the heels of May and June's Miniature of the Month comes a third Chaos-themed model in a row! This time it's one of the insidious Skaven from the Mortal Realms in the form of a Clanrat.
It's always nice to get a free model, even if it is only worth a few points! Still, it's always nice to have a test model if you're starting a new army. As with all of the MotM, they just break open boxes and build a bunch, so you won't necessarily get the mini above.
While you're in store, you can also pick up July's commemorative coin! Ask staff how you can get your hands on yours.
The coin this month is a little plain, honestly. Still, if you love Citadel paint, might as well grab the coin if you have the cash to spend on minis.
GW Announces FREE Warcry Miniature
But to whet the appetites of visitors to Warhammer stores this month, we're going one better – a completely free model for you to collect, build, and paint.  This putrid punk is a Mirefolk Outcast, a grimy junior member of the Rotmire Creed warband who's arrived in the Gnarlwood at the behest of his mirky masters to seek grime and glory. You can collect this model from your local Warhammer store from Saturday the 13th of August (while stocks last) – speak to your store manager to find out more.
In a previous post, they said you would get this exact model, not the usual where they just open a box and give you one of the models inside. They also stated it would be this way moving forward.
Instead of a model from an existing kit, people who make their way into their local store at the start of every month* will earn themselves a sweet model taken from that month's biggest release. Just walk into your nearest Warhammer and ask staff how to claim yours!  
This is a pretty cool change; however, they are giving themselves an out with that asterisk. As they then state, not every month will actually be a new model, but it will most of the time.
New Coin Promotion
While you're in store, you can also pick up August's commemorative coin, which is available from Saturday the 6th of August. Ask staff how you can get your hands on yours.
This is a much cooler coin than last month, so if you like the Imperium, then this might be worth picking up as you got to grab your free Warcry miniature!
How do you like the Free Warcry miniature for August?
Let us know in the comments of our Facebook Hobby Group, or our new Discord server, and make sure you enter the latest monthly giveaway for FREE today! 
Get ad-free access to our videos, a monthly drop of miniatures, and support some of the best creators out there for as little as $6 a month on Patreon!