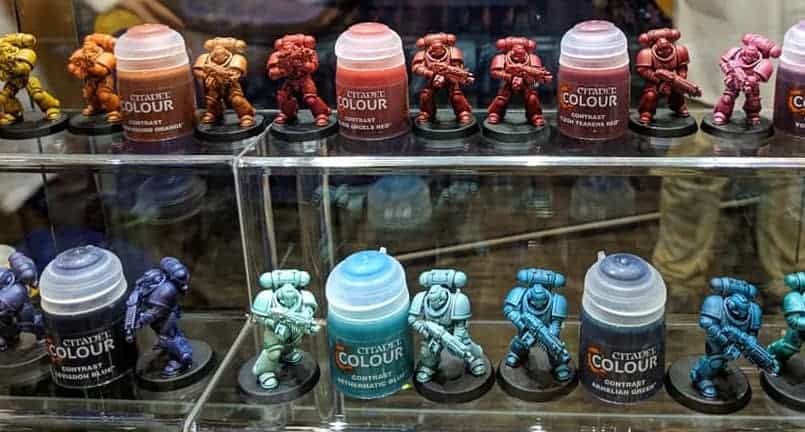 Here is how all the new Citadel Contrast paints really look on miniatures with each of the new model primers from Games Workshop!
We'll be covering how miniatures actually look with Contrast paint because they are often used with tons of other layers, making it hard to tell precisely what models look like on their own.
Then, we'll even cover how to make your own, what type of value there is, and more. That way, you can decide if spending those hobby dollars on the paint is worthwhile.
These paints are supposed to help get your minis painted quickly with some, you guessed it, decent contrast! While they won't do everything for you, they will make your painting go much faster!
Let's first answer some quick questions and then dive deeper into how Citadel Contrast Paints actually look on miniatures with the Games Workshop model primers.
Get the Supplies to Transfer Your Contrast Paints:
What Should You Know About Citadel Contrast Paints?
The first question is, do they help you paint faster and get decent results? Short answer, yes!
Will these give you high-level paint jobs on their own? Not really; they will give you a tabletop standard very quickly, however.
Can they be useful for high-level paint jobs? Of course! They can help take your paint jobs to a new level when used with other paints and techniques.
Are they worth it? This is a tough question; they are expensive but do give good results. You can also make your own or find similar and cheaper alternatives.
Can you make your own Contrast style paints? Yes, but obviously, it takes time!
How hard are they to use? Not very hard once you get the basics down.
Now, let's take a deeper dive!
How Much Does Contrast Paint Cost?
Contrast paints retail for $7.80 per 18 ml pot, and because these are between a layer and a wash in consistency, the paint will probably go fairly quickly. It may be a good idea to grab a few bottles of the same color if you plan on painting your little rank-and-file guys in your army.
Now that you've seen the colors and price (don't worry if it's too expensive, we'll show you how to make your own as well), let's look at how paints will look with different rattle can primers.
You can get your own Contrast Paints for less from independent retailers or Games Workshop directly at the links below:
 Amazon | Dicehead Games | Bazooka Games | Frontline Gaming | Games Workshop's Store Link
What Primer Should You Use With Contrast Paint?
The spray primers that are designed to work Contrast are going for $22 per can, but in theory, you can use any lighter-colored primer, and it will be fine. The Games Workshop Primer will have a more neutral-light tone that gives contrast paints a perfect backdrop to bring out the paint color.
The primer color you choose should reflect how vibrant of a color you want from the look of contrast paint on your miniatures. Here's a table from GW Clemsford of the most used Citadel Spray Primers used with the same Contrast Paint: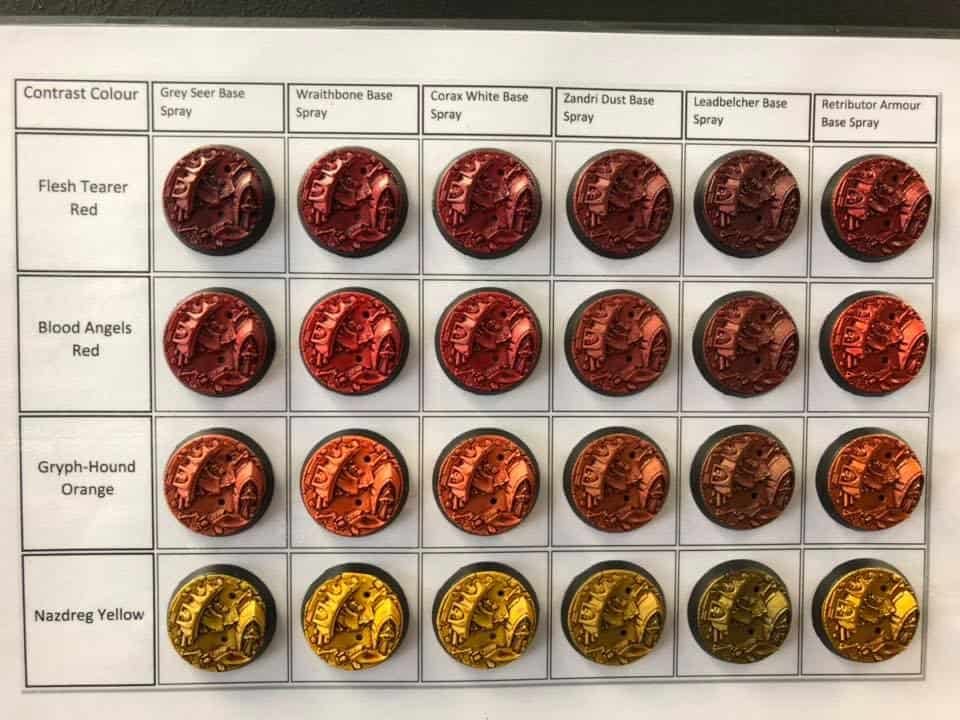 Obviously, Grey Seer is the more grey primer, Wraithbone is a bright tan, and Corax White is the purest white you'll find among the paints.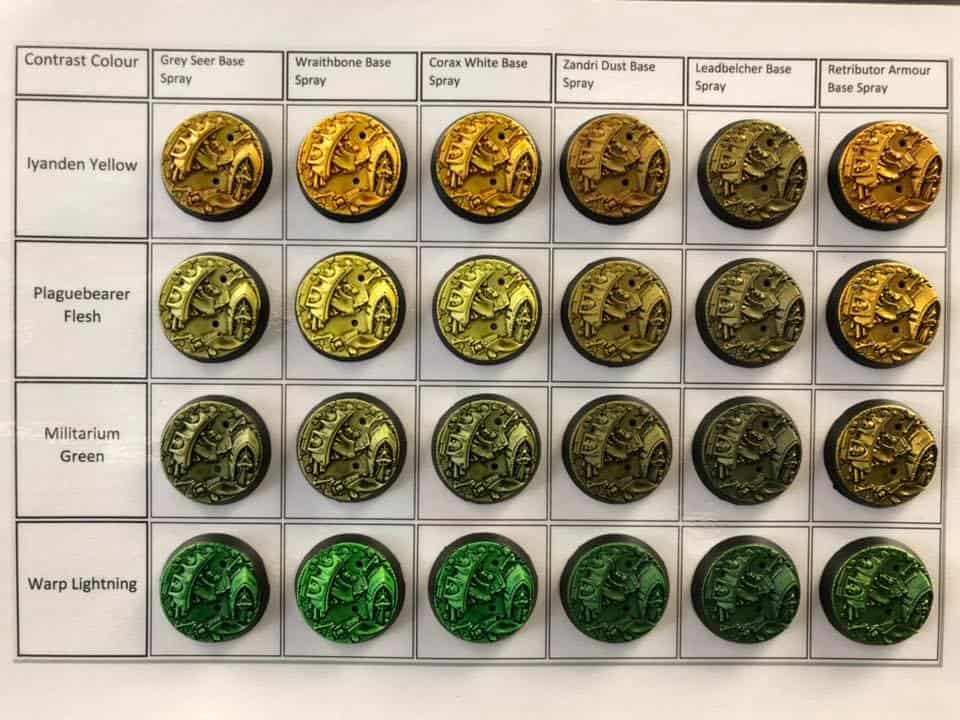 You can see that, generally speaking, the Grey Seer primer puts out a darker hue, while Corax White has the most vibrant and bright color. Of course, that leaves Wraithbone in the middle of the road.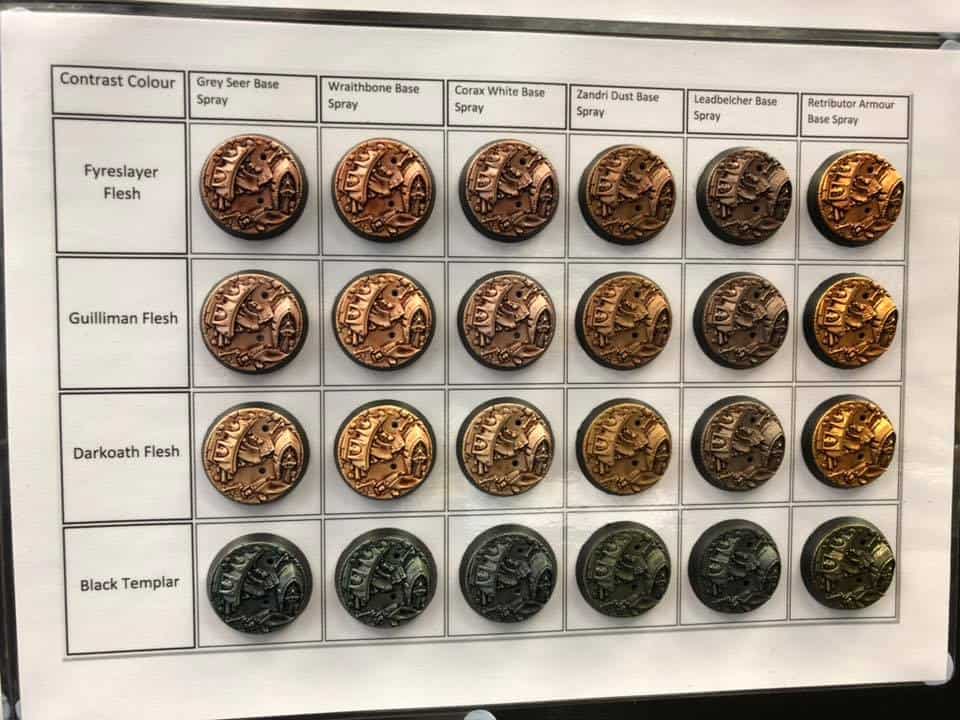 Hopefully, this side-by-side comparison of primers and the Citadel Contrast paints has helped you decide which primer you should go with and maybe what Contrast paint would look best for your minis!
Our Favorite Contrast Paints So Far:
Here are my Top Five Contrast paints that I love, which may be perfect for you too!
How to Make Your Own Citadel Contrast Paints
Rob walks us through how to make your own! Either check out the video above or our steps below.
We'll use these mediums and some Airbrush Flow Improver as the primary solvent. The medium you wish to use solely depends on your desired effect.  Rob thinks he got the best flow using the regular old matte medium (right) that can be purchased in bulk (above).
Combine whichever medium you prefer in a half-and-half mix with Vallejo Flow improver to create your own "Contrast thinner."
Contrast Paint Color Comparisons
For a quick comparison, the left model was made with the normal Contrast Paints, and the right model was made with the samples Rob mixed together. Other than minor color differences that can be fine-tuned, the properties of the paint can be seen, and they are almost identical in that respect!
Rob suspects that the Contrast uses super high pigments (like inks) to make those vibrant colors, so try experimenting with some of those for similar color pops!
We make these new colors simply by placing some of our 50-50 medium/flow improver mixture and the paint we want to use on the palette and mixing them a little bit to create the consistency we are looking for.
In the glowing green above, we see the GW Contrast on the top coils, with Rob's mix on the bottom ones. Other than the color, the "pop-iness" and general characteristics of the paints are very similar, as we can see!
Rob says there are about seven "must-have" Contrast paints for his hobby toolbox. With this DIY Contrast thinner, you can make any other color you want by mixing it with washes, acrylics, and even inks.
Is Contrast Paint Worth it?
Honestly, no, at least not all of them, not with other alternatives for half the price out there that work better, like the Army Painter Speedpaint. However, they will work if you need them for a specific paint recipe or if this is all you have access to.
Games Workshop Contrast Paint is too inconsistent and unpredictable to use across the whole range. It almost seems like these were initially supposed to be a different product entirely.
Citadel Color Contrast, Shades & Spray Paints: Added In 2022
Revealed on June 13th, 2022, new Citadel Contrast and colors paints are here!  There are a lot of new Citadel colors; however, we think a lot of folks were looking for something a bit different. Still, if you love GW's paints and contrast more specifically, this could be really good.
New Games Workshop Contrast Paints
Now it's time to take it to the next level. 25 new Contrast paints are expanding the range into a whole new realm of vibrant colours. These new paints unlock wilder colour palettes for your armies, meaning they'll stand out even more on the battlefield – painting mind-blowing models will be easier than ever! 
25 new paints is a lot of colour to cover, so we've split the range into four simple categories to help you get an idea of what they look like. These new colours run the gamut from bright and bold to grimy and eerie – whether you're painting a tank turret or a raging Endless Spell, there's a pot here for you.
There really are some cool colors were added, which should make painting a wide range of minis fairly easy.
The Mortal Realms and 41st Millennium boast countless creatures with a touch of the dark, as well as warriors clad in weathered armour and solemn robes. Plus, every miniature needs to stand on something – like a solid, dependable hero rock. 
New Games Workshop Shades
These Shade paints are designed to provide instant depth and easily create stronger shadows, speeding up the process of creating great-looking models. While Contrast paints are designed to tint surfaces and give an intense finish, this new formulation ensures that Shade paints will settle more effectively into the recesses of your miniatures – while leaving the raised parts of your models relatively untouched.  
They have seven new colors, but it also looks like all the shades were redone again too!
New Spray Paint
White Scar is designed specifically for use with Contrast paints, to sit alongside the cool Grey Seer and the warmer Wraithbone sprays. There's nothing stopping you from using it with our regular Citadel range, however. It's great for creating punchier colours from a brighter undercoat – you can even try using our reformulated Shades on it for bold new results.
The new spray is cool but honestly not the craziest thing out there. Still, if you use contrast paints, this could be a good addition to the line.
Transfer your Games Workshop Citadel Color and Contrast Paints to dropper bottles in three quick steps to stop them from spilling, drying out, or taking up too much space in these three steps…
People had been petitioning GW (literally, there was a petition going around) to transfer their paints to dropper bottles. But it doesn't look like it will happen after ther recent announcement, so it's time to take matters into your own hands!
Supplies to Transfer Your Contrast Paints:
In this article, we will show you one of the easiest ways to get the most out of your hobby paints.
All the Citadel Contrast-Style Paints & Alternatives For Miniatures
Lots of companies have started producing Citadel Contrast-style paints; check out the best alternatives for miniatures on the market!
Ever since Games Workshop came out with the idea of a faster painting idea, the market has responded with some really cool products. Some are more like true one-coat solutions (Speedpaint), and others are closer to contrast (Green Stuff Worlds' dipping inks); regardless, they all have their benefits.
Citadel Contrast Paints & the Best Alternatives For Miniatures in 2023
So, check out all the Citadel Contrast Paints and the best alternatives for miniatures so you don't spend money on something you don't really want or need!
Just one last thing to note, we'll show you some of the lines, but for most, this is just a small portion of what they have to offer!
These paints are designed to be a single-coat solution. However, you can wait just a little to add more coats, but you really don't need to. It's meant just to get your minis on the table super-quickly and playing! Then, they have also come out with the 2.0 version, meaning they have worked out any issues with the first release.
Be sure to check out the video above for all the tips and how they all work!
The NEW Speedpaint 2.0 Starter features a comprehensive collection of the hobby's favorite one-coat painting solution reformulated to meet the demands of painters of all skill levels.
Combined with an innovative resin medium solution that flows perfectly over your miniatures creates an unparalleled painting solution to help you get more time for gaming.
10x 18ml Speedpaints:
5 New colours
1 Speedpaint Metallic
Get yours from these retailers:| Amazon | Dicehead Games | Bazooka Games | Frontline Gaming |
Getting more paints is always excellent; you can grab them all at once! At this price, they break down to about $4 each, which is just a great price for this many paints.
Contents:
50x 18ml Speedpaints:
45 New colours – including 3 first-ever Speedpaint Metallics
1 Speedpaint Medium
4 Speedpaint colours from the original range for FREE
FREE
1x Basecoat Brush
Pre-order Bonus: Speedpaint Brush & Hard Plastic Palette
These absolutely matte yet durable paints have an incredible range of 112 brilliant colors. Formulated by Cephalopod Studios and carefully curated by Creature Caster, we are proud to bring you one of the most innovative miniature paints on the market.  
Taking advantage of the Sketch and Glaze technique popularized by thousands of award-winning miniature painters throughout the last 30 years (or 300 years by traditional canvas painters), this range of paints allows for inexperienced hobbyists to achieve unbelievable results with a little bit of patience and understanding of basic painting techniques. More experienced painters will fall in love with this range, as it allows them to save time by utilizing the pre-glazed paints without the need for additional mediums.  
These paints will be available exclusively through Creature Caster. 
We All Start Somewhere contains 16 different paints that have been carefully curated by the Creature Caster team to definitively revolutionize how you approach painting miniatures. This paint set contains the following:
Black Knight
Poor Boy Denim
Sir Rulean Blue
Kevin
Peachy-keen
Up Chuck Green
Lush Valley
Ghoul Flesh
Ethereal Gray
Fireball Orange
Bubblegum Pink
Chromamancer Purple
Crawdaddy Red
White Knight
Tainted Snow
Bright Yellow
If you don't feel like paying the prices for contrast paints, the new Green Stuff World offering might be right up your alley. They have 24 different colors, and each comes in a 60ml dropper bottle, so it's pretty hard to beat right off the bat.
While we haven't used these ourselves yet, the results are very hard to argue with. This is just a small amount of what they have to offer; now, let's take a closer look at some of our favorites!
As you can see, the price for how much you get is pretty nice. Here's what they have to say about it:
Dipping ink semi-transparent paints help you to shade your figures more quickly and easily over a single coat of paint. Apply with a brush over a layer of matt white or a light colour to easily achieve realistic shadows in a single application of Dipping.
The Dipping ink range is the best speedpainting solution on the market to contrast your miniatures and gain more time for the game.
It can also be used by advanced painters taking advantage of its unique properties to mark shadows and volumes, blend and veil colours with ease, bring out the details of your figure quickly and use it as a starting point for more professional painting.
These paints have been designed in a 60ml pot so that you have enough product to paint entire armies with ease.
Contents: 1x Dipping ink in 60ml
The video does a great job of showing how the paint will look on different primers and really give you a great feel for the paints in general.
We haven't personally got to test these out quite yet, but have heard good things. Their packs are well-put together, and if you want a certain set, the price really isn't that bad. Plus, it's always nice to have more alternatives.  You can get yours by clicking here.
As we can see, this stuff looks pretty decent, with Angel using it quickly and even on a small miniature too! Remember that getting Vallejo paints in the States was always challenging, even pre-covid, so you may have to work harder to purchase it locally.
However you can find them on Amazon, but the prices will vary, and we could pretty much only find singles, but if you love the way they look, they are out there!
There are definitely some great uses for Contrast paints. Especially if new hobbyists are scared of picking up a brush and demolishing a model. Contrast is a great way to test the waters of painting for beginners. For anything with a bunch of curves and recesses, Contrast will really shine.
There is still a technique for applying Contrast paints, as the paint doesn't seem to eliminate any skill required to use it.
Contrast paints were really hot when they first came out. Now with other companies improving and tweaking the formulas, things are changing. Especially with the recent price increase, people have been looking for alternatives. However, they are still a favorite of many people out there.
You can get yours by clicking here.
For now, it looks like most of the big paint companies have jumped on the contrast hype train, as Green Stuff World recently made a similar product, and of course, the Army Painter Speedpaint is great as well.
How do you like the look of the Games Workshop Citadel Contrast and Alternative paints on miniatures?
Let us know in the comments of our Facebook Hobby Group, or our new Discord server, and make sure you enter the latest monthly giveaway for FREE today! 
Get ad-free access to our hobby videos, a monthly crate of miniatures, and support some of the best creators out there for as little as $6 a month on Patreon!