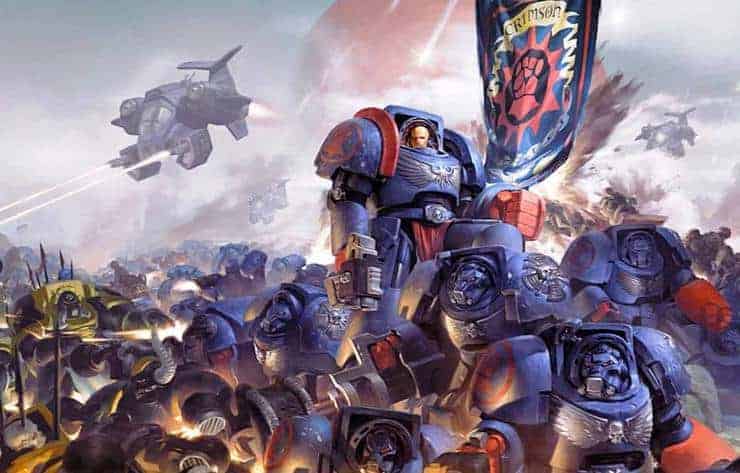 This year's Games Workshop Armies on Parade prize support has been spotted. Come take a look at what your best painted army can win you.
Scanner just sent us this year's prize support for the Armies on Parade winners that each Games Workshop store will be handing out. Get those paint brushes ready! Let's take a look at this years requirements for Armies on Parade submissions, and the prize support for each category.
Everyone gets a prize!

Yay! Go you.

Painting an army is a marathon, not a sprint, and just completing the task and crossing the finish line is an achievement worth celebrating. Everyone who enters Armies on Parade this year and successfully brings a force into their local store to display will get a 2017 Armies on Parade silver badge to mark their achievement.

But there will be some winners too. This year, to represent the various ways you guys build your armies, we're giving out up to 12(!) awards in each store – 6 each for both Warhammer Age of Sigmar and Warhammer 40,000.
Here are the categories:

Young Bloods (up to 15 years old)

Celebrating great armies from our youngest generation of hobbyists

No matter how old you are, if this is your first fully painted army, you can be in the running for this award.

For those of you with armies of Monsters, Knights and Behemoths

Whether the inspiration is from a Black Library novel, a piece of artwork, or a classic force from the background and lore, this is one for those of you who love to represent a narrative with your armies.

For those who love to create spectacular scenery for your displays

For you painters out there – fill your displays with your finest work to compete for this award.
This year's winners will have the chance at taking home an Armies on Parade button, as well as a card showing off what category they won it for, making a perfect backdrop for those display cases.
Warhammer Age of Sigmar Parade Week will run from October 23rd to 29th, followed by Warhammer 40,000 Parade Week running from October 30th to November 5th.
In case you missed some of the recent Armies on Parade prize support here it is:
It's great to see Games Workshop giving back to the community and making it enjoyable for even the newest of painters. Make sure you stop by and check out our Top 20 Armies on Parade from last year.
What do you think about this year's Armies on Parade prize support and categories? Are you going to be making a submission? We'd love to see your armies! Feel free to send them into us at support@spikeybits.com.